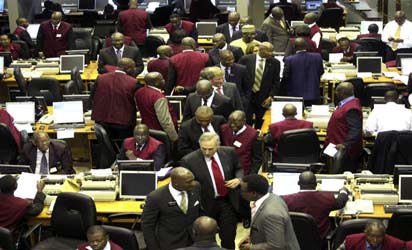 Nigerian Stock Exchange
The floor of Stock exchange
By Peter Egwuatu
The equity market closed lower on Thursday as the bears continued to dominate market, with the Nigerian Stock Exchange, All Share Index, ASI shedding further, by 1.3 percent to close at 34,618.43 points, thus hitting its 52-week low.
Similarly, the market capitalisation decreased by N166.62 billion, representing a dip of 1.30 percent, closing at N12.61 trillion
The bearish transactions was largely attributable to sell pressure in Dangote Cement
As a result, the Month-to-Date and Year-to-Date returns moderated to -6.48 percent and -9.48 percent, respectively.
The Industrial Goods Index dropped by 2.11 percent, followed by the Banking Index which plunged by -0.81 percent, and Consumer Goods Index which declined by -0.12 percent.  The following losses in Dangote Cement (-3.74 percent), UBA (-6.18 percent), and Honeywell Flour Mill (-7.65 percent) shares, respectively contributed significantly to the drop recorded in the indices.
On the flip side, gains in OANDO (+8.79 percent) and Equity Assurance (+10.00 percent) shares, led to upticks in the Oil & Gas (+0.48 percent) and Insurance (+0.20 percent) indices.
Market breadth remained negative, with 29 losers and 17 losers, led by AIRSERVICE (-10.00 percent) and Equity Assurance (+10.00 percent) shares, respectively.
Total volume and value of trades rose by 13.49 percent and 6.47 percent to 237.81 million units and N3.09 billion, respectively, and exchanged in 3,162 deals.
Analysts at Cordros Capital, a Lagos based investment house said: "Our outlook for equities in the short to medium term remains conservative, amidst brewing political concerns, and the absence of a one-off positive trigger. However, stable macroeconomic fundamentals remain supportive of recovery in the long term."