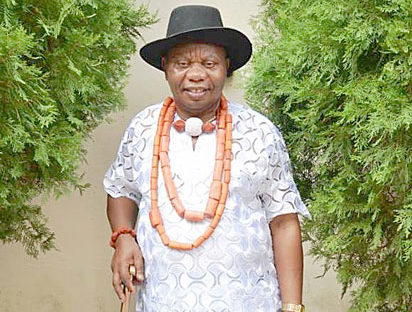 Edojah
By Perez Brisibe
Olorogun Solomon Edojah, a former member of the House of Representatives who represented Ethiope Federal Constituency is presently a chieftain of the All Progressives Congress, APC who ditched a leader of the party in the state, Olorogun O'tega Emerhor and pitched tent with Chief Great Ogboru.
In this interview with  Perez Brisibe, he spoke on reasons for his action and his aspiration to return to the House of Representatives to represent the Ethiope Federal Constituency in what he said is a bid to change the narrative in the House.
Why I am going back to the House of Representatives
When I went to go to the National Assembly in 1992/1993, I had a lot of things in mind which I wanted to do, one of such was the fact that I wanted to change the narratives of representation but regrettably, we were just there for a year when the military came in and threw us out and since then, nobody amongst the representations for Ethiope Federal Constituency has met my aspiration.
The way things are now, it has become an all-comers affair. It is dominated mainly by people who have no job, no second address, no means of livelihood and that is not the National Assembly of my dream. The National Assembly is a serious-minded business. It is not supposed to be for job seekers and people who have no jobs.
What I am bringing to the table
I am bringing to the table what I call the AAA. The first "A", stands for Adequate Representation. We have suffered from inadequate representation from 1999 to date as most members go to the National Assembly to represent themselves, family or cronies and I think this should not be.
The second leg of the "A", is Adequate Feedback. With this, every member of the National Assembly must go and organize a town hall meeting if not every month, at least every quarter where feedback would be given, where the people would express their opinion.
The third leg of the "A" is Adequate Benefit. Most constituents have not benefited from their representatives. We expect that whatever accrued to you or your office, members of your constituency should share part of it because you are going there to represent them, so whatever comes as a result of your representation should trickle down, hence for me, half of my earnings would go to the people that I represent by way of direct benefit.
What that means is that half of whatever I earn every month would go by way of direct credit to serious minded persons who also support me on this project and we have issued out registers and people are enlisting their names already.
Why I ditched Emerhor for Ogboru
APC remains one and for those who want the party to win, they are committed to the victory of the party irrespective of the tendency they belong to, don't forget that for democracy to thrive, you must allow divergent views.
Yes, when I joined the party, the only person I met was the governorship candidate which was Olorogun O'tega Emerhor but as time progressed, more people came into the party with one of such being Chief Great Ogboru.
Knowing the antecedent of these two, I felt the man that is most likely to win the governorship for Delta State is Ogboru and of course, O'tega is not running for any election so there was no basis of comparison.
There are three factors that can make somebody win an election.
One of such is that God must be on your side, if God ordains you, you will always win. The second leg is that you must have cult followers for you to be somebody that wants to win governorship election in the state, those who can vote for you free of charge and Ogboru has it.
Lastly, you need to have money to mobilize people to drive the process. Even if Ogboru doesn't have money to drive the process, many of us would support the project to ensure that he wins this election.
So when you compare the two, one is running while the other is not running, hence why would I be wasting my time with Emerhor when Ogboru has the chances of mobilizing and galvanizing people for electoral victory?
Emerhor's claim for a Delta North APC guber candidate
I don't know if Emerhor is now an Ibo man.
If he has an opportunity to decide between an Ibo and Urhobo man, I am sure if he goes the way of the Ibo man, he would be going alone and his wife and family would not even follow him.
So there is always an Urhobo factor, the only thing is that we have to be fair to all concerned which is, yes, if an Urhobo man is running, you can support him or even remain neutral particularly if you are a leader of Emerhor's status until the chips are down and the people decide one way or the other through primaries.
But I cannot as a leader, for instance, mortgage the interest of my people for no just cause. If you ask Emerhor today, what is the reason you do not want an Urhobo man to emerge? If he says it's because of the Urhobo man in him, I would ask, is it the Ibo man in him that is making him not to support an Urhobo man? Support your brother first, if he is not going to win, it shouldn't be from you. You have to let the world know why he cannot win or why he can win. If you are not running for an election and you are not supporting your Urhobo person, there are two factors. Its either you are a mole, or you are doing the bidding of somebody else or you are doing all these for pecuniary interest.