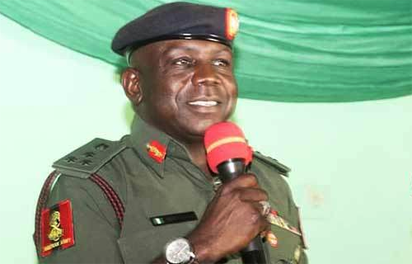 Kazaure
Kazaure
By Rotimi Ojomoyela
Ado-Ekiti- The Director General of the National Youth Service Corps (NYSC) Brig. Gen. Suleiman Kazaure has advised corps members in the country to embrace the Skill Acquisition and Entrepreneurship Development (SAED) of the scheme for them to be self-reliant.
The NYSC boss advised corps members in the country to stop looking for white-collar jobs which he said was not available, urging them to work and develop their skills in order to survive and make headway in the country.
Kazaure gave the advise while addressing the 2018 Batch B stream 1 corps members at the NYSC Permanent Orientation camp in Ise-Orun/Emure local government area of Ekiti.
He urged corps members to be dedicated and be patriotic in the discharge of their duties in order to achieve the aims and objectives of the scheme.
While paying tribute to the Nine corps members that lost their lives in Taraba, he warned them to shun all nights parties and gathering not authorized by the officials.
" I want to urge you all my dear Corp members to embrace and pay more attention to the SAED program to acquire necessary skills. Truth be told, there is no white collar jobs in Nigeria and it is through these skills that you can survive in our society.
" Please, avoid unnecessary journey and night parties or social gathering not approve by the officials of NYSC. It is for your safety.
" It was unfortunate that we lost our members in Taraba when they went for a picnic. Our official were not not aware of it, had it been they informed the officials ,they would have been advised not to go to the river side because the Emir has said the place is not conducive that period."
Speaking earlier, the NYSC state coordinator in Ekiti, Mrs Emmanuella while commending the DG for his leadership prowess in the scheme ,revealed the infractuctural problems at the orientation camp.