The President of the Institute of Chartered Accountants of Nigeria, ICAN, Alhaji Razak Jaiyeola, in this interview highlighted some of the issues that have bedevilled the Nigerian economy, especially the budgeting system. Excerpt:
By Providence Emmanuel
What is your view of the Nigerian economic situation?
Like we all know, corruption is the bane of the Nigerian economy. When this new government started, they were really out to fight corruption and for us in ICAN, we have always supported them because we believe in accuracy and integrity. For us in ICAN, we introduced a number of things to show that we are supportive. For instance, in 2015, we launched our whistle blowers fund of N50million to support our members who blow the whistle in respect of people who are involved in financial misdemeanour.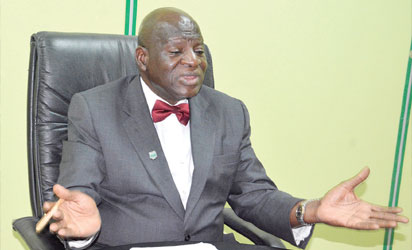 Last year, we launched what we call accountability index, a mechanism for the assessment of public finance management in the system, at the federal, state and local government levels and all agencies of government. It is done in such a way that we go to the field and collect data, we study and assess the performance of various tiers of government and at the end, we rank their performance but we would have assessed them based on five different pillars with indications and dimensions. With the ranking, there is competition and everybody would be striving to improve.
This translates into a more efficient system and the need for government to employ more qualified professionals to be able to work actively in the system. We also have 'Non-Compliance with Laws and Regulations', NOCLAR, which is a mechanism introduced by International Federation of Accountants, IFAC, the organisation to which we belong and as the President of ICAN, I am a member on the board of that body. Above all we also have our disciplinary process such that if any of our member is reported, we set up an investigation panel and if he is found wanting, he would be arraigned before the disciplinary tribunal which has the status of the high court and if he is found guilty his license would be withdrawn.
Let us look at the population of this country. In 1960, the population of UK was 52 million, that of Nigeria was 46 million, by 2015, the population of UK was 60 million, that of Nigeria was 185 million. By 2070, the population of UK is expected to be 80 million and that of Nigeria is estimated to be 550 million. We have the issue of population explosion in our hands. GDP is declining, population is growing astronomically.
Technically, big population should not be a problem as we are witnessing in China because it is being properly managed. Same thing goes for India, they are able to manage their population and the available resources. We are suggesting that government should invest more on infrastructure. There is infrastructural deficit of about $3trillion at the moment.
Do you think diversification of the economy would help address population explosion?
There has always been diversification ding dong but sources of revenue is what we need to look at. If we analyze the GDP for last quarter, you would find out that information technology is about 30 percent, manufacturing 24 percent, mining and quarrying 23 percent, other services 10 percent, agriculture 6.6 percent, among others. So with all the noise about agriculture, it is contributing only 6.6 percent. It means that we have to re-channel our energy into productive sectors.
We appreciate the fact that government has introduced Economic Recovery and Growth Plan, ERGP. To ensure ICT is significantly improved upon, the Vice President visited the Yaba IT hub recently, he followed up with a visit to Silicon Valley including other places. Government is trying to put a number of things in place to ensure that we are able to harness our resources but the totality of it boils down to being able to have leaders that would be able to address things with interest of the masses in their heart.
From what you just said, do you think our budgeting system is right?
Yes, our budgeting system is good in principle. You have the various processes and starts with visioning of what is expected during the year. There is of course medium term framework in place but we do have problems. We have problems of over polluted budgets. We have budgets that are heavily skewed towards recurrent expenditure. A budget where you deploy 63 percent of your resources on debt serving. What do we have to show for those debts? In principle, there is nothing wrong to be in debt, if you have something to show for it.
For instance, if you are in debt, the revenue has been deployed in productive sector and that will eventually pay its way, but that is not what we have at the moment. We also have the issue of delays in passing of our budgets, between legislature and the executive, you see the various ding dong that would always happen, causing several months of delay. Delay here also means delay in the release of funds even after it has been passed, there is still the issue of release of funds. Is the money even there to be released? There are lots of issues, we also have weak financial reporting culture.
Recently, the Auditor General of the Federation said that several years of report are lying there in the national assembly, reports that have been written and submitted that contains sanctions against erring officers are lying there for about twelve years, they have not been touched. How do you improve on such a system? There are external factors also influencing the budget, issue of oil prices, stability or problems associated with oil producing areas.
All these things influence the budget. It is important that we try as much as possible to stem corruption, our attitude to work, ethics, bureaucracy, governance and the political system. All these issues must be addressed before we can find a clear way forward. Finally, there is an important pillar of our accountability index that deal seriously with budget issues. It breaks down the budget process into various indicators and dimensions. The World Bank recently granted $750 million facility to Nigeria to be able to improve on governance system and one of the areas that must be addressed is the issue of budget process and accountability within the system and states of the federation.
A body known as anti fraud organisation accused ICAN of producing accountants below country's need, how true is this?
To start with, they got their fact wrong, ICAN produced about 45 thousand accountants in 53 years, but the issue here is, is it about quantity or quality. If you want two million accountants today, you just advertise in the newspapers that you want this number of accountants and people will apply and it would be given. But ICAN has a mandate via its legislative instrument, the act of parliament of 1965, to maintain the standard and quality of accountancy in this country and that is what we stand by. We are talking about quality. The whole world knows that you must sweat it out to be a professional accountant.
How do you compare ICAN with international accounting institutes?
England and Wales are our fore-fathers, they got their instrument in 1880. After a period of 138 years, they have produced only 147,000 accountants, Association of Chartered Certified Accountants, ACCA, had its instrument in 1904, they have 200,000 accountants after 114 years. American Institute of Certified Public Accountants, AICPA, got their instrument in 1887 they have 414,000 accountants, South Africa Institute, SAICA, got theirs in 1894 they have just 37,000 accountants, ICAN is even doing better than them.
Look at China with 1.3 billion people, they have produced only 250,000 chartered accountants. This particular association that advertise themselves as chartered, where is the charter, has it been granted? And they are collecting money from innocent members of the public, we do not compromise quality. We have our members holding forth in this country in respectable organisations.
How do you intend to move ICAN forward in one year tenure?
The Theme of this presidential year is "Securing Our Shared Future: A Collective Responsibility". If it is a collective responsibility, then we must start with what our leadership in the past have done and build on it. Times and volumes of business are changing, we look forward to reviewing our syllabus. There are issues of disruption in our system, brought about by artificial intelligence. We would protect the ICAN act from all those trying to cannibalize the profession, it would not work, we would fight it, not allow it. We would commence the building of an academy for our institute.