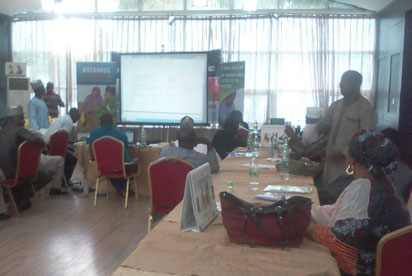 By Suzan Edeh
Bauchi- It has been observed that Nigerian households spend over $38 million equivalent to 11 billion naira on breastmilk substitutes annually, costing workers up to 34% of their minimum wage earning to pay economy brand infant formula for the first two years.
This was an outcome of a two days media dialogue for world breastfeeding month, with theme," Breastfeeding, foundation for life" organized by the Jigawa Primary Health Care Development Agency in collaboration with UNICEF, Bauchi Field office with funding from the UK Aid and supported by Department for international development, DFID, held at the central hotel in Kano state.
The meeting was facilitated by the UNICEF Communication Officer Bauchi office,Mr Samuel Kaalu, UNICEF Nutrition Specialist, Philomena Irene and Executive Secretary of the Jigawa State Primary Health Care Development Agency,Dr Kabiru Ibrahim.
The UNICEF Nutrition Specialist, Philomena Irene while giving an overview of the economic cost of not breastfeeding on human capital development and health systems in Nigeria, said that every $1(N315.25) invested in breastfeeding in low and middle-income countries can generate as much as $35(N11,033.75) in economic returns.
She said that the current cost to the health care system for the treatment of children with diarrhea and pneumonia that visit health facility due to inadequate breastfeeding is approximately $22 million equivalent to N6.93 billion a year.
" An estimated 5.4 million children do not get the powerful health and immunological benefits of breastfeeding each year in Nigeria.When children are not exclusively breastfed for the six months and continue to receive breast milk up to two years,they are more susceptible to diarrhea and pneumonia,two leading causes of childhood death worldwide "
" In Nigeria,improved breastfeeding practices prevents 103,742 child deaths, an important contribution to reducing under five child mortality. Inadequate breastfeeding impacts a child's ability to learn and hinders their future earning potential", she said.