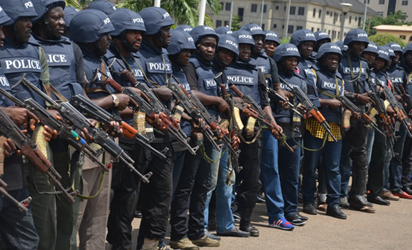 By Vincent Ujumadu
AWKA—A NEW Police College is to be built in Umuchukwu in Orumba South Local Government Area of Anambra State.
Dr. Godwin Maduka, a medical practitioner and philanthropist, who disclosed this said the institution would provide opportunity for the youths to join the Police Force and help generate employment for people of the South East geo-political zone.
Conducting officials of the Police Service Commission at the site of the college, Maduka explained that land had also been provided for a Police Academy for the area, adding that construction work would soon begin on the two institutions.
Maduka said he decided to attract the project to Umuchukwu as a way of helping youths in the area to gain employment as a way of fighting corruption in the society
According to him, the institutions would be sited on a 50-hectare piece of land which he procured from the community, expressing delight that officials of the commission were satisfied with the location and the preliminary work already done.
Leader of the delegation, Mr. Okey Johnson Imoatu, an Architect, who is the chief consultant to the Police Service Commission commended Maduka for the donation.
He said: "Dr. Maduka has single handedly done what the state and local governments could not do. This is a worthy project that will be beneficial to the people of this area in particular and the nation at large and we hope that there would be no delay in their execution."
Maduka, who is based in the United States of America, USA, had executed other projects in his community, including primary and secondary schools, High Court and Magistrate Court, Police Station, Police Quarters, Judges Quarters, Churches, houses for widows and indigent persons, among other philanthropic gestures.