By Festus Ahon
ASABA-NIGER Delta Professional Assembly, NDPA, has applauded President Muhammadu Buhari for appointing Mr Mathew Seiyefa as the Acting Director General of the Department State Security, following the sack of the former Director General, Lawal Musa Daura.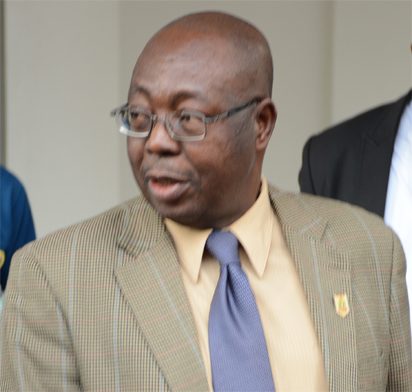 Convener of the NDPA, Dr. Uboh Udosen, in a statement said the appointment of Mr Mathew Seiyefa has reaffirmed President Buhari as a patriotic leader and a core Nationalists.
Udosen said; "The appointment of Mathew Seiyefa has reaffirmed that President Muhammad Buhari is a patriotic leader and a nationalist to the core who always rise above partisanship and allow merit to flourish over and above chauvinistic consideration.
"Let it be place on record that Mathew Seiyefa was twice shortchanged by the Government of Yar'adua/Jonathan when he should have naturally assumed the position of the organization DG by reason of seniority and competence but was push aside and instead the duo of Gadzama and Ekpeyong were appointed against the law of natural justice and incomplete disregard to laid down laws of our land.
"Today, the injustice meted out to Mathew Seiyefa by a fellow Ijaw/Niger Deltan the then President Goodluck Ebele Jonathan have been redressed by a Fulani man/northerner President Muhammadu Buhari who symbolizes justice and fairplay.
"We at the Niger Delta Professionals Assembly (NDPA) wish to use this medium to thank our amiable and God sent President Muhammadu Buhari for appointing in acting capacity one of Niger Delta finesse, a professional to the core, an administrator of repute and a security expert par excellence in the person of Mathew Seiyefa to head one of the most sensitive security apparatus in our beloved country.
"This has also put to rest the mischievous propaganda that President Buhari only appoints Northern Muslims to head sensitive security apparatus. Which organization is more sensitive than the Department of State Security Service? We call on President Buhari to take a step further by making Mathew Seiyefa the substantive DG of the Department of State Security.
"All true sons and daughters of the Niger Delta must support one of their own, the newly appointed Director General of the Department of Security Service to succeed at his new duty post by embracing dialogue, promote the course of peace and development throughout the Niger Delta and Beyond.
"Conclusively, as a matter of showing goodwill and in reciprocating the gesture extended to Niger Delta by President Muhammadu Buhari with the recent appointment, we call on our fellow Niger Deltans to volunteer themselves and mobilize massive supports for the reelection of President Buhari to consolidate the unrivalled achievement of the present administration".