Says: Two deaths recorded so far
By Ishola Balogun, Saudi Arabia.
A national prayer was held on the plains of Arafat Monday by members of the NAHCON Ulama team.
The event was organized by the National Hajj Commission of Nigeria, NAHCON to seek Allah`s intevention for meaningful socio-economic, political development of Nigeria.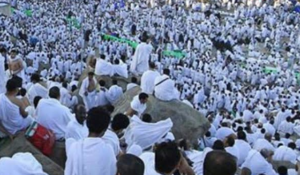 Speaking at the event, the Chairman of NAHCON, Barrister Abdullah Mukhtar Muhammad said, so far, only two pilgrims have died, but no accidents or any serious incident recorded.
Barrister Muhammad commended the various services providers, in the areas of feeding, tents arrangements and other sundry activities as according to him they have been satisfactorily carried out except for some few minor problems which were promptly addressed.
He further expressed appreciation to the various Saudi Ministries, parastatals, agencies, security outfits and the Nigerian officials who have been up and doing to ensure a hitch free Hajj exercise.
In his speech, Ambassador, Justice Muhammad Dodo stated that the call for prayers for a successful 2019 general election was paramount at this time, praying Allah for socio economic development in all spheres of life.
The prayers were offered in English and in several Nigerian languages.
The Hausa version of the prayers were offered by Al-Shaykh Muhammad Nasir Kano, Igbo by Muhammad Obiaho Ajah, Ogoni language by Imam Ibrahim S. Yaalo and the Yoruba version by Shaykh M.T.Sulayman, Fulfulde Muhammad Saleh, while the Kanuri version Shaykh Dr. Muhammad Murtala.