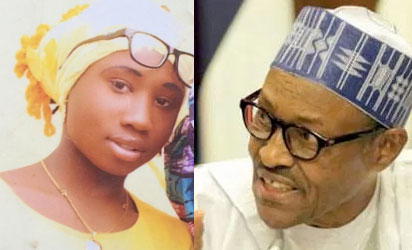 Leah Sharibu and President Buhari
…Says DSS analyzing Leah's audio recording
By Johnbosco Agbakwuru
ABUJA – THE Presidency Monday reassured that the President Muhammadu Buhari-led administration will spare nothing to ensuring that the abducted Dapchi Christian girl and other girls abducted by Boko Haram regained their freedom.

This is as the Presidency has said that the Department of State Services, DSS, was analysing the recent audio purportedly issue by the abducted Miss Leah where he was asking the President to show milk of kindness to her by facilitating her release.
Leah Sharibu is the lone Christian girl still in Boko Haram captivity after herself and her school mates were abducted in Dapchi, Yobe state, in February.

About one hundred of them were later set free while five were reported to have died but Leah was not released by the terrorist for failing to renounce her Christian faith.
On Monday, an audio tape was published by an online medium in which she asked President Muhammadu Buhari to have pity on her while also calling for assistance for her family.
Reacting to it, Senior Special Assistant to the president on media and publicity, Garba Shehu, in his Twitter handle, @Garshehu, on Monday said that the "secret service" was analyzing the audio.
He promised that the president would spare no effort to ensure all the girls in Boko Haram's captivity are freed.
He tweeted: "We are aware of the audio in circulation concerning the unfortunate situation of our daughter, Leah Sharibu.
"In dealing with terrorists, nothing is too trivial.
"The secret service is analyzing the voice.
"Our reaction will follow the outcome of the investigation.
"For President Buhari, nothing will be spared in bringing all our girls home. He will not rest until all of them are freed."
The Federal Government had in May this year dismissed insinuation that it has abandoned negotiations for the rescue of Leah, admitting however that efforts with the insurgents have been tortuous and complicated.
She has been in Boko Haram captivity since February 19, 2018 when she and 111 other girls were abducted in Dapchi School, Yobe state.
Minister of Information and Culture, Lai Mohammed had in May, while fielding questions from State House Correspondents over the fate of the school girl said that negotiation with insurgents all over the world was always a tortuous exercise because it is not usually a face to face discussion.
He assured that the Federal Government had not given up the effort as negotiations were still ongoing to secure her safe release.
Mohammed had said, "Anybody who negotiates with insurgents and terrorists in the world will know that is not a direct face to face negotiation like we are doing."
The Minister of Information, and Lawal Daura, the sacked Director-General of the Department of State Services, had said the release was part of a wider ceasefire talks with the insurgents.
However, apparently losing patience, Sharibu yesterday reportedly pleaded with President Buhari to secure her release from captivity.
She, in a 35 seconds online audio which trended Monday, said "I am Leah Sharibu, the girl that was abducted in GGSS Dapchi. I am calling on the government and people of goodwill to intervene to get me out of my current situation."
"I also plead to the members of the public to help my mother, my father, my younger brother and relatives. Kindly help me out of my predicament. I am begging you to treat me with compassion, I am calling on the government, particularly, the president to pity me and get me out of this serious situation. Thank you."