By Jide Ajani
In what looked like a civil unrest, armed thugs, allegedly backed by security agents, wreaked mayhem, penultimate Saturday, during the bye-election of PHALGA III Constituency of Rivers State.  And in what would have been a scandal of gargatuan proportions, those behind the disruption wanted the Independent National Electoral Commission, INEC, to announce the result of an election that witnessed the ugly disruption in 101 out of 142 Polling Units, Pus.. Well, that is the new low some politicians are willing to drag the electoral process.  But for the clear-headedness of INEC's National Chairman, Professor Mahmood Yakubu, and the insistence by the Resident Electoral Commissioners, RECs, on ground – Mike Igini of Akwa Ibom State and Obo Effanga of Rivers State – this dangerous paradigm in election riggng would have been enthroned.  Now, what politicians are aiming to do, apart from vote-buying – but which INEC is trying to stop – is a new scenario where elections would be disrupted in the stronghold of their opponents such that voting would not occur, while their respective areas of strength would be secure.  This, in the belief that the 'substantial compliance'rule would be invoked should  the loser then opt for litigation Mercifully, the Yakubu-led Commission is exploring ways of handling this new low.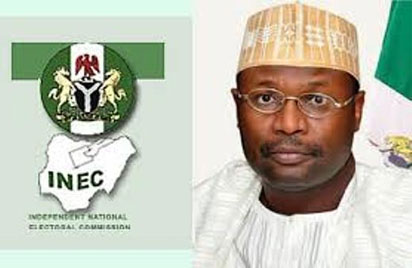 How INEC Regained Some Respect
The eruption of violence astonished voters, though such situations were not new in Rivers State, yet, everything had been going on surprisingly well until this happened.
Gangs of political thugs, allegedly escorted by armed security officers, went from polling unit to polling unit, destroying election materials, harassing electoral officials – including NYSC members – and generally provoking a melee as voters and other citizens scampered for safety. As the disorder continued, usually dependable sources at the headquarters of the Independent National Electoral Commission, INEC, told Sunday Vanguard that its supervising officials deployed in different directions to ascertain the safety of their staff, worked the phones to reach chief officials of security agencies.
Still very disturbed by the shameful and embarrassing spectacle, the INEC officials were said to have also reached out to party chieftains to call their people to order, just so the situation would not degenerate into a statewide civil conflict.
This was the background to the press statement issued by INEC, late penultimate Saturday, announcing a suspension of the constituency bye-election in the state, thereby restoring a bit of sanity to the otherwise disturbing breakdown of law and order on that fateful day of August 18, 2018.
Acting National Supervising Commissioner, represented by the Resident Electoral Commissioner for Akwa Ibom State, Mike Igini, questioned repeatedly, during an interview, how gangs of hoodlums could be escorted by armed security officials?  Why was this possible? Why were the hoodlums not arrested?   That moment captured on mainstream and social media, the powerful intervention of INEC, made all the difference.
At that moment, INEC gave life to the international norms and conventions that guide the expectations and conduct of professionalism, impartiality and credibility that political competitors expect from an Election Management Body, EMB.
The credibility of  INEC was already being eroded as political actors, in recent times, indulged in conducts that dented the image of the Commission in ways that it may be unable to retrieve if  professionals within the EMB did not step forward to stem the tide in an adroit way that will not present the electoral body as partisan to any interests.
Before And During Rivers Poll
Before the Rivers bye-election, there were loud complaints from election observers about the conduct of security officials, party agents who shamelessly bought votes in the Edo, Ondo, Anambra , Ekiti elections (across party lines); and the recently conducted bye-elections in Katsina, Bauchi and Kogi, and then Taraba States. Preceding these incidents was the bloodsport which passed as an electoral contest in Bayelsa State, where, for several days and nights, gunshots rang in many constituencies and human corpses were reported to have littered communities as political groups from the two main political parties engaged  in conflictual duels during the gubernatorial election. Just after the Bayelsa election, there were similar incidents of violence  charactersing  a  re-run election in Rivers State  which was also suspended and later concluded after peace was restored.  During that unfortunate incident in Rivers State in 2016, a  Youth Corps member, Okonta Dumebi Samuel, with corps number RV/15B/5539, was killed by unknown gunmen in Ahoada West LGA.
In recent elections, there have been allegations that politicians  employed  security agents to intimidate polling officials and other party agents to ensure that pre-determined results  were given in their favour.   Accusations of such conduct where security agents were misused were rife after the recently concluded Katsina, Bauchi and Kogi bye-elections.
There were suggestions that this model of election irregularity will be repeated in the Rivers bye-election; and it was in fact taking place when INEC officials suspended the election.
Even the National Chairman of INEC, Professor Mahmood Yakubu, according to sources in Abuja, could not believe what he was hearing concerning the show of shame in Rivers.
Sunday Vanguard was further informed by its INEC headquarters' sources, that but for the intervention led by INEC RECs Igini (representing the Supervising National Commissioner) and Obo Effanga (REC in Rivers State), the credibility of the Commission would have been completely eroded as some observers were pointing accusing fingers at the EMB that it was aiding the new model of using security agents to foist pre-determined   election outcomes on voters .
Electoral Deviations, Electoral Reforms and the Unsigned Electoral Act
These deviations from expected norms have become more concerning and  impel stakeholders to seek solutions particularly within   INEC as the electoral umpire. Such concerns chiefly focus attention at the practices of control management within INEC and its processes. Control management is the aspect of management or administration that tracks deviations from the plan, using monitoring and evaluation processes and institutes measures to minimize variations from planned expectations.
To be fair, INEC, since 2011, has introduced several measures to increase the fidelity of elections in Nigeria beginning with the introduction of   a biometric   Voters' Register. However, while a lot of attention has been focused on the process, not much attention in terms of control management has been directed towards the conduct of political actors.
For instance, since the death of the Youth Corps member in the Rivers re-run election, no one has been brought to book; several deaths during elections have also gone by without serious legal consequences to the actors or their sponsors. The Uwais Electoral Reform Committee recommended the institution of an Electoral Offences Commission to stem such offences.   However, such laws were meant to regulate politicians; yet, they are the same people who draft the regulatory rules in the form of the Electoral Act, hence they have glossed over the problem and swept the issues under the carpet over and over again.
Recently, it was reported that within the current Electoral Bill awaiting the assent of the President, several amendments have been introduced to   make electoral offences  punishable  with  severe sanctions, but the new Electoral Act, despite its central role for the 2019 elections, is  in the cooler somewhere in the Presidency.
Origins of Electoral Irregularities and possible solutions
The disarray in political competition in Nigeria often begins in the internal contest of the political parties and then spills over into inter-party contests. Often, party chieftains impose their will rather than allow members to vote so that popular and competent aspirants can  emerge as candidates. In the latter respect, party leaders have been known to hide the list of delegates or, where they allow direct membership votes, they populate the membership voting list with pre-arranged sponsored voters who vote according to determined outcomes.
Even with these domination of the process, there have been occasions where it was reported that, despite such manipulations, some candidates who managed to prevail were denied by the re-writing of the nomination results. An example of this is the unfolding drama in the Peoples Democratic Party, PDP, governorship primary in Osun State. Under these conditions of doctored nomination processes, where free competition was  curtailed, some parties have witnessed the emergence of candidates who became electoral burdens and, because they were uncertain of victory, desperate measures  were adopted to impose them further on the electorate in inter-party competition. The situation is reported to be worse in local government elections, where the state party machinery has created a complete farce in the name of LG elections.
The election that was scheduled for penultimate Saturday in PHALGA III Constituency of Rivers State  was a state House of Assembly seat, and  occasioned by the vacation of the seat by a member who left the seat for a local government chairmanship job.   Given that the last incumbent preferred a local government job to the constituency seat, the certainty of outcome in such election  at local government ,where farcical elections are often the practice, may have informed such a decision; this has been the experience in most local government elections across the country.
Since 2011, INEC has increased the uncertainty of outcome of elections in federally conducted instances, but the increasing cases of vote-buying and alleged abuse of security agents have introduced new dimensions that may be outside the direct control of INEC, but which still needs urgent attention.
Stakeholders whose opinion were sought regarding the vote-buying issue suggested that the most effective measures should be directed at the politicians who benefit from the outcome of such vote-buying.
It has been suggested that the National Assembly, upon resumption, should enact legislation to ensure that where vote-buying is established, the election should not only be suspended, political actors who were found by courts  to have instigated or participated in vote-buying as well as misuse or abuse of security agents or private militias  should also be banned for not less than 20 to 25years from participating at any level in elections, in addition to jail term and  fines.
Additional solutions that have been suggested to minimize such deviant behavior  include the scrapping of the sections of the Electoral Act which purport  that INEC should accept candidates that emerge from party primaries 'whatsoever processes the political parties use'. Such blanket clauses allow  political parties to indulge in all forms of political misconduct that they carry-over into inter-party contest.
While INEC should not be expected to decide for parties who their candidates should be, still,   political parties must be made to deposit with INEC, prior to each contest, the legal documents guiding any party political contest and widely publish same in their website and in the mainstream media. Another new cause for concern, which some political groups are beginning to raise issues with, relates to the introduction of an election result collation control back-up by INEC which allows them to monitor election results from the polling units through the collation centers up to the final collation. Although some stakeholders have commended INEC for such controls, they expressed cautionary concerns that, in the hands of unscrupulous officials, or officials who, at gun point, may be compelled to input the wrong results, thereby, using it to validate rigged results as   it may only be garbage-in-garbage-out, if the wrong data were used from a pre-arranged server.
Owing to such concerns, stakeholders advised that the Form ECA8 or election result forms from the Polling Unit, PU, as well as the published result pasted in each PU should also be uploaded using similar technology as the Whatsapp data transmission method, to upload the PU data to the INEC control center and an independent election observatory which has observers and participating party stakeholders.   They  also advised  political parties to set up polling unit result collation control centers where party agents should send the published results from each polling unit.
Importance of Human Agency for INEC's Credibility
Whatever the measures, rules or guidelines that INEC introduces as part of the improved control management to address the issues of vote-buying, thuggery and abuse or misuse of security agents, reliable, professional superintending INEC officials will still need to bring their positive human agency to bear for the credibility of INEC to be acceptable. This was evident in the suspended Rivers State PHALGA III bye-election, where, but for the calming reassurance and the questioning of the deviant behavior of political gangs and security agents by  RECs, many would have written INEC off as a compromised and partial entity.
This is because such deviant behaviours have been seen to have been ignored and political actors given a field-day to indulge in all manner of malpractices and irregularities in several other elections. In the suspended bye-election in Rivers State, some parties are even alleged to have argued that INEC had no powers to suspend the election, an insight into the  degree of lawlessness that can ensue if the parties are left to their own devices.
Section 26 of the Electoral Act empowers INEC to postpone an election if "there is reason to believe that a serious breach of peace is likely to occur…" or "natural disasters or other   emergencies" and where it believes   that going ahead with an election will be impossible. It is, therefore, disingenious   to suggest that INEC acted outside the letters and the spirit of the law when actual breach of peace evidenced by disruption and destruction of ballot boxes and card readers were already taking place or were ongoing from polling unit  to polling unit across the eight wards resulting in well over 101 out of 142 polling units.
Any person suggesting that the umpire should allow such must have very suspicious motivations.   Such intervention by INEC under such circumstances of a breach of process, which is not new, has been used in the past. Indeed, this was a clear instance when election management officials are required to speak out forcefully where political actors fail to abide by the rules.
For instance, the alleged abuse or misuse of security agents is a dangerous dimension which should frighten all lovers of democracy, because if politicians who do not have access to security agents at their beck and call realize that they cannot win elections without a balance of terror, this can only lead to an arms race between political groups and the accumulation of small and sophisticated arms within the country before and after elections.
Therefore, if there was silence as a result of the abuse of such security agents, such silence may just be the silence of the graveyard as politicians quietly arm themselves to balance the terror on election day.   Such a Hobbesian scenario is certainly not the type of democracy that Nigerians aspire to.
This is why Nigerians must be thankful that within INEC and its new leadership, headed by Professor Yakubu, there are still credible and professional people who are willing to stand up at the important moment where sanity is needed to call political actors to order, because in the desperate zeal to acquire political power, some actors can destroy the entire polity.   Such dystopic bahaviour is the reason why in Germany, for instance, a political party control law, called Law Number 21, was introduced  to protect the democratic values of the state from political actors who value their victory more than they value the State and its democratic aspirations.
In Nigeria, where there is no explicit law to control such extreme political behavior, credible and professional election officials are expected to step forward.
In that respect, the conduct of INEC headship and its officials in restoring sanity in Rivers State must be commended and such actions, which forcefully send a signal of restraint to political parties,  are what the Nigerian polity requires as the political parties are set to begin their election primaries.