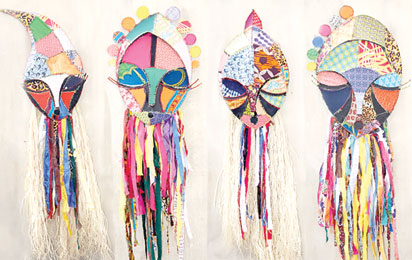 By Japhet Alakam
AFTER a successful outing in his last solo that focused on the culture and art of the Onitsha people tagged Shifting the Paradigm hosted by the Museum Of Contemporary Art,North Miami,one of Nigeria's leading contemporary artists, George Edozie is set to hit the art space again with another exhibition of paintings and sculpture titled New Nigerian Conjuctures: The art of George Edozie.The exhibition will as usual showcase  some of  the latest works  and some from his rich art collection.It will open on 5th September 2018 and run till 15th September at National Museum Onikan, Lagos.
The solo which will be graced by  prominent art collectors, patrons, scholars and colleagues will  also  host the   art loving monarch of Onitsha, Igwe Alfred Nnemeka Achebe, Obi of Onitsha  who is the special guest of honour.George Edozie is among artists making waves in the contemporary art space who studied Fine and Applied Arts at the University of Benin in 1996. He is both a painter and  fabric sculptor, and his works are widely collected within and outside the country. Edozie who was  co-founder of the Art group, Artzero and  a consultant, has taken part in Art workshops within and outside Nigeria. He was part of  Africa Now organized by the World Bank for emerging African Artists at the World Bank main complex Washington DC USA in 2008 and African Way of Art, La Galerie Vendome Paris France in 2011.
George has successfully curated 34 exhibitions in the US, France, UK, Ghana and Nigeria.  His works were shortlisted at the Art Basel, Miami in 2014 and listed as one of the best four exhibitions. He has a permanent sculptural display titled Okpulu (Grandma's Basket) at the Museum of Contemporary Art, North Miami.