By Yinka Ajayi
Stanley Amuche is one of the leading contenders for the governorship ticket of the All Progressive Grand Alliance (APGA) in Imo State ahead of the 2019 general elections. Amuche unfolds his agenda if he is elected by Imo people in this interview.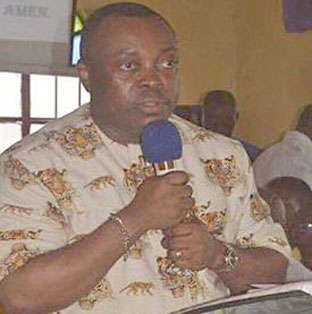 Why do people  call you 'Light of Progress' or 'Onwa Oganiru'?
Well, until now, my intervention or participation in public affairs has been mainly on grassroots development and advocacy to improve the lot of our people through the foundation I founded, the Good Light Foundation, to give succour to homeless and indigent people. Anything that will contribute to progress at that level motivates me. In one of those interventions, someone used the attribute to commend my effort and several others have repeated and amplified it, not by any deliberate effort on my part. As a deeply religious person, who participates zealously in religious affairs that will edify and develop the human spirit and advance the glory of God, I can relate with an appellation that is related to light and not darkness. And we shall work towards light and progress for the benefit of our society. So if people relate my name with the 'Light of Progress', I positively embrace it as an urging to do more positive things.
Talking about public sector performance, what new ideas do you think you can bring to the sector that will be different from what others have done?
I bring fresh ideas and will actualize them. I have the competence to make sure that these ideas are context suitable and workable in Imo. Leadership is an attribute you  have to effectively influence a context or situation or people, but management is an art and a science which you must nurture and apply. By God's grace, I have been given the opportunity to,  in different spheres, demonstrate that I can deliver good leadership and good management.
Fresh ideas like what and which ones are your priorities?
Developing a society is not rocket science, because there are demonstrable good practices of what works best or better. The only challenge is adapting and transferring those things that are suitable contextually from the defined vision and aspiration of the people in their context. It is just like a business defines its vision, mission and how to achieve them, and with what resources. A society must begin by defining its vision of what its people desire as development. You don't walk into an elected office and begin to say we are building 40 roads, 30 flyovers, 400 primary schools; that is utterly ridiculous. Even the Bible says, think and plan your vision, then write it down, which shows you that building a society is first a mental exercise.
But to the subject of fresh ideas, politics is essentially a contest of ideas of how to make society better. Each platform provides ideas  before electors or voters. So if we must offer to make our society in Imo better, we must first agree on what society we really want, then we develop processes by which we examine that consensus periodically because human wants and desires are dynamic. So the first fresh idea is that I have a fresh vision of what we can do to make Imo better than all states in Nigeria or be at an advanced stage of being so within four years. Additionally, I will build a consensual mechanism by which all people of Imo  have a say and input into how that vision affects and impacts them in each area or zone of the state and their roles in actualizing that vision as it affects them. Simply put the first fresh idea is responsive and inclusive conceptualization of the development of IMO state to make it the leading or one of the leading states in Nigeria within four years.
Responsive and inclusive conceptualization of development as a leading state within four  years, many may want you to break that down into bread and butter issues on their table.
Very true indeed, but all good things begin as concepts, models or prototypes in the minds and written plans of those who started them. Let me take a few direct illustrations. Some of my priorities are that Imo state will offer its people the best and highest form of welfare, be a leading state in education producing the best human resources for its needs, and be the best enabler of industrialization which creates more jobs than any other state in Nigeria and supports its businesses at all level to do well and thrive. Having determined that we want to lead in education, we will benchmark our state with 3 cities in the world that meet our desires and educational aspirations and adapt that aspiration to our context in Imo, by doing this we can tell what our standard criteria will be for education at every level from the amount of cement it takes to build a classroom to the maximum number of children in a class, the minimum number of teachers, the best wage and performance bonuses, the best incentive for learner performances, and we will have carefully measured indicators showing us how we are progressing towards our goals and ask objective observers to judge us by our progress towards our benchmark.
Accepting that we shall be a leading   state in industrialization and an enabler of industry, we shall benchmark our state with   standard and practical exemplars that   meet that aspiration   and work towards milestones, such that anyone anywhere in the world that examines what we do to enable industrial growth in Imo state   can tell that we are a leading society or heading towards such a direction, for example we will identify what determines   global and regional industrialization drivers for a state in our location and with our peculiarities, we will then dedicate resources to those things. If what is required for instance is to license private people to build haulage rail lines to the nearest ports, or concentrate functional power supply for specified times of the day unfailingly to specific areas using public and private players we will do it diligently, If you are importing industrial goods to Imo state we will not allow you to just swim with the sharks, we will develop mechanisms that will make Imo your first choice investment destination. Determining that development is providing the highest and best welfare system for our people, we cannot have a state where people wonder if they will be paid a living wage and on time, we will develop a system that ensures the funding of all jobs well ahead of the completion of a month's earnings such that you can set your wristwatch or calendar by the regularity with which we meet our social obligations in health, social support for the vulnerable,   creating an ambiance that does not only guarantee you an enjoyment of your human rights and privileges but a judicial system and support systems   that allows you to be able to enforce breaches to these rights without fear or favour.
When you say the highest form of welfare are you referring to things like free education, because there are those who will say they have a challenge accepting a free education where the teachers are on strike because of unpaid wages?
Nothing is really free, when people say free public services, it is actually "free-at-the-point-of-use" so free Health, Free Education, Free Transport or Free Food in the form of Food stamps or Food Grants are public administration decisions where the leaders out of political value, provide a service without collecting direct payment at the point of use, but may collect that money from taxes, levies or the sacrifice of a chunk of public revenue dedicated to pay off that service as an opportunity cost for other needs of the society. If you provide free education and due to poor planning you make the wages of teachers an opportunity cost for free education, it shows that you did not think holistically, you had a poor systems view of the different dimensions of your plans for society, so your actions become cellular with shambolic social and economic outcomes.
You seem passionate about the subject of development and although you have touched upon some of the priorities you will take on, do you consider that this is what the development of Imo  will mean now that you have joined the race for governorship on APGA platform?
I am glad you asked this question, because while many people aspire for public offices, they seldom give deep reflection to the concept or subject of development which is the raison detre for electing people to public offices. There has been a very rich and robust global debate about the notion of development , defined simply one will refer to development as the desirable or aspirational progress of a society that makes it adaptive   and sustainable, but if you reflect on the global development debates, you will find that it is not that simple and straightforward. Some have tried to define development in terms of economic prosperity, like those who advocated the sets of market and governance criteria that some referred to as the "Washington Consensus or Brookings School development criteria. However, when China after Deng Xiaoping prospered economically, some pointed out that because its people did not enjoy human rights and poverty was still very high in China, development is not only about economic prosperity.
Yet others; principally Armatya Sen, defined development in terms of how well capabilities to participate in the economic affairs of society and the distribution of wealth and wellbeing in society are graded. The latter worldview looks at inequalities in society and their origins. These debates though contemporary are not new because even the early philosophers like   Aristotle in Metaphysics, Augustine in City of God, Rousseau in The Social Contract, Hegel in Phenomenology of Spirit, Rawls in The law of Peoples and the earlier works Political Liberalism and A Theory of Social Justice as well as more modern theorists such as Gerald Meier and Joseph Stiglitz in Frontiers of Development Economics: The future in perspective also examined inequalities of society and justifications for them, the progress of society, governance and the best ways of leading society to desirable ends. But when you examine all of these as a composite, you will find that human wellbeing and how to attain and sustain them optimally and maximally are at the heart of development, so seeking to serve the public must entail a constant consultation and review of what aids that goal. Our efforts in developing society must therefore have as its focus our ability to improve the capacity of Imo state's social, economic and political system to provide circumstances for the wellbeing of Imo people to be sustainable on a long term basis. So the primary criteria for our fresh ideas if it is truly directed at development is to always ask; will any government action we take improve the well-being of the people of Imo state to make them and their systems more adaptive in a sustainable way.
Given this your philosophical motivation for development, in terms of Government policies at State level what fresh ideas will make the different zones of Imo more adaptive and sustainable to improve the wellbeing of the people specifically?
Education, skills acquisition and capacity enhancement are the first pillars for human adaptation, followed by the structures that government puts in place as social investments in health, social welfare, social infrastructure for public transport, human conveniences, aids of trade and platforms that facilitate interface for exchanging commercial , social and cultural exchanges, finally there are the regulatory regimes, laws, rules and conventions for aiding the delivery of development faster and in a more sustainable way.
I will start with the latter although all will be delivered concurrently and sequentially according to worked out project implementation models that follows pathways of efficiency, effectiveness and value for money impact on the people. Whereas in the past, governments have delivered development paternalistically in Imo, giving the people what they feel they can bestow on them like generous lords. I will institute decision-making development boards in each zone comprising elected and appointed citizens. We will have policies that sets out a development budget for each zone and set our minimum criteria for all types of development, the development boards in each zone will then determine which for them are priorities and allocate the percentage of the zones development budget for priority areas. This will be done concurrently with projects that are overarching State development projects, for instance if we are developing power infrastructure or internet backbone structures using state or concessional private funding such projects can still run along   collaboratively and additionally with the zonal priority projects. More important we will also institute constituent or citizen's juries from each zone comprising voters, opinion leaders and community leaders who the development boards will report to in front of the media every 2 months before a new budget for the zonal development is presented.
So in terms of regimes, structures and rules to enable development, I will institute zonal development boards and constituent/citizens juries as a control for the delivery of equitable development by the zonal development boards. In terms of education, skills acquisition and capacity enhancement, we will define from our current baseline from the day we come on board, the best educational requirements, skills and capacities that will aid the development goals of each zone of Imo and we will prioritize our resources to facilitate a speedy attainment of those needs. We will complement this with a performance driven data of our labour needs within and outside the state.   In terms of social infrastructure investments we will take an inventory for each zone and close the important gaps first, using international benchmarks for health delivery, housing, waste management, and other social infrastructure we will set a minimum standard and follow them diligently such that when you enter Imo state within our first milestone period you will feel the changes of how government can impact the lives of people positively from the regularity and assurance of how social infrastructure affects each citizen to how you make complaints and get response for unsatisfactory public and private services delivery.
Other specifics that I will deliver in each zone besides the above includes development of some unfinished or badly delivered previous projects in each senatorial zone.