Ambassador Abdul-Aziz Garuba is a walking encyclopedia. At 80, his sharp intellect and ability to recall events in a fresh manner is a marvel to behold. Having retired as a super permanent secretary and erstwhile Nigeria's ambassador to Canada in those hey days, Garuba still had some energy and verve left in him to partake in active politics in between 1996-1999.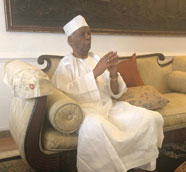 Recently, friends and associates rolled out the drum to herald his 80th birthday in a grand style in Abuja. In this interview, Ambassador Garuba reflects on the past while barring his mind on some salient national issues. Excerpts.
By Adekunle Adekoya
CONGRATS sir. It's really awesome that you attained the ripe age of 80. Looking back, how does it feel at 80?
How do I feel at 80? I don't usually grant interviews, but at 80, I have many reasons to thank God. I am most grateful to God for sparing my life to get to this age and state. I am grateful to God for blessing me with wonderful family and friends that love me dearly and particularly for my wife, Sibi, who is God's special gift to me.
I thank God for the gift of my salvation through Christ Jesus, my Lord and for keeping me in stable health and strength. I thank God for the opportunities and favours I have enjoyed in life and continue to enjoy by his mercy and grace. I also thank him for the opportunities he granted me to serve our nation and humanity. I can't list all that I am thankful to God for.
Obviously, you have been fortunate in the sense that at 80 you enjoyed stable health, a happy home and kids who are doing fantastic things in various fields unlike your peers. What has been your staying power?
God made all these things possible. He has been my anchor and sustainer and brought me in contact with destiny helpers along the way.
Anchor and sustainer
Considering my humble background and beginnings from illiterate parents, there was no way I could have achieved all that I accomplished without the grace and providence of God and personal hard-work.
You served as permanent secretary during a military regime, precisely under General Gowon. Most people are of the view that the administration you served failed to build on the abundant oil windfall of that period thereby plunging Nigeria into her current quagmire. How would you react to such postulations?
I served as permanent secretary under military administrations at a time when there was probity in the system with fiscal controls that were strictly adhered to and when the kind of impetus we see today in the handling of public funds and properties could only be imagined.
I served at a time when oil prices and output were lower than the levels we enjoy today. Most of the infrastructural developments were initiated to a large extent by the administrations under which I served. It will not be fair to say that the administrations under which I served plunged the nation into the current quagmire considering that its been over 20 years.
Do you still mingle with other PDP members in your domain?
At 80? I am retired from all works and relate with people from every political inclination or affiliation within and outside my domain.
As a founding member of the party and also a gubernatorial aspirant in 1999, do you see the recent alliance of like minds an opportunity for the PDP to stage a comeback?
Do you think that at 80, I should be discussing party politics? I am a father to all irrespective of their political party affiliations. What is most important to me is that anyone in a position of public trust should discharge that function with credibility and for the benefit of the people he is meant to serve.
In Auchi where you occupy the exalted post of Mogaji of Auchi kingdom, your kinsmen hold you in very high esteem essentially because it was during your glorious tenure that a lot of them got recruited into the federal civil service. Today, many of them form the bulk of Edo North elites. How did you manage to accomplish this feat?
I was only an instrument in the hands of God for such a time. If you have a heart to serve, God will always open doors of opportunities for you to do so. I credit Alhaji Mohammed Abubakar and my wife, Sibi for their unflinching  support and for providing the logistics that made it possible to serve in that regard. I am glad that my children and my nephew, Zakawanu are toeing that line too. This is my legacy.
Is your traditional title of Mogaji hereditary or simply an honour?
It is a hereditary title from my grand father. Hopefully I will pass it on to one of my sons.
How would you compare and contrast your experience as an ambassador with other roles you have been opportuned to play in life?
I started out as a diplomat and ended my public service career as a diplomat. In between, I served as a technocrat. There is no basis for comparison. Each aspect of my public service had its peculiarities and challenges. I wouldn't say that one was better than the other.
Generally, how would you rate the Buhari administration against the backdrop of worsening economic situation, unending herdsmen killings and others?
Each administration in Nigeria faced peculiar issues and challenges. The essence of a strong leader is to be able to handle crises that arise in a manner that minimizes  the effect on the citizens. Every nation goes through cycles of prosperity and leanness.