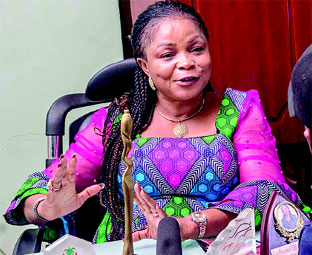 By Josephine Agbonkhese
Poised to halt the slide in their political fortune ahead of the 2019 general elections, women politicians from various political affiliations in states across the country recently launched a coalition, the Women in Politics Interparty Network. In this interview, Dr Emilia Ezeude, President of the Lagos chapter and an aspirant to the House of Representatives on the platform of the People's Democratic Party, PDP, under the Ajeromi-Ifelodun Federal Constituency, speaks of the coalition's plans and reels out lessons from her political experiences.    
What inspired this coalition? 
The myriad of problems facing Nigeria and the many challenges faced by women in politics in the country, informed the coalition. Since 1999, the number of women in political positions continues to decrease in Nigeria such that the percentage of women in parliament in the country has become one of the lowest in the world. That is annoyingly well below the African average.
Ironically, women are unique beings packaged by God to cause a difference and provoke positive change in their environments. But unfortunately, they have been relegated to the background in Nigeria, which is surprisingly a signatory to most of the international instruments on women's rights, especially the Convention on the Elimination of all Forms of Discrimination against Women, CEDAW; the African Charter on Human and People's Rights, the National Gender Policy and Vision  20:20. Sadly, these rights and ideals have remained mere rhetorical postulations.
 Changing the narrative
Yes. The time has come for the narrative to be changed; the participation of women in politics should be beyond mobilising, praise singing, fundraising, party supporters, husband supporters and women leaders. We need quality representation in decision-making. The whole essence of this organisation therefore is to have government and political parties commit themselves to addressing challenges that are holding women down, to drive the implementation of the National Gender Policy and ensure women constitute at least 35 per cent elective office holders and that winning is increased to 50 per cent by 2030. Also on our agenda is to increase the number of women occupying leadership positions within political parties' structure and to support women candidates during elections and appointments. All these will help ensure women contribute their quota to national development.
What steps have you outlined to help hasten the achievement of these goals?
We have done so much. We've done a lot of trainings and recently, we held a mega rally in all states where we have a chapter currently. This is to further advocate for the inclusion of women in governance.
We are only five months to the 2019 elections; do you think you can achieve this aim?
We are very sure. Even though we are a bit new, majority of us are politicians and players in the terrain. We've been working in various local governments and within a short while, we have been able to appoint coordinators in all local government areas in the various states where we exist. These people are actively engaging in grassroots work and mobilisation already.
How structured is this organisation to blissfully accommodate women from different political parties?
It is well structured. You see, many of us have realised that unless we are able to work together, we may find it difficult resolving issues affecting us in politics. So, when we come to Lagos Women in Politics Interparty Network, we drop our political affiliations; we are all one, fighting for a common good.   We work together to support female aspirants in our different local governments to achieve their goals.
So, what will change about the way women will do politics in 2019?
A lot will change. Women are getting to know that politics is serious business and that power is not served a la carte but that you really have to go out and fight for it. In the past, when you call for political meetings, you hardly see  women except the ones that come to dance and sing. But these days, when you call for meetings, you see them on talking and participating assertively.
I learned you vied for the Lagos State House of Assembly in 2015; what has your experience taught you? 
My experience in politics has taught me a lot; including the fact that everything depends on you and that when you plan well, you can achieve a lot. As a 2015 aspirant to the Lagos House of Assembly, I learned that if you want to vie for any position, you need to first of all organize yourself. You need to, among other things, identify your needs, strategise properly, identify possible challenges, understand that politics is time and money-demanding, and that it requires boldness and much more. That's why I say politics is not for nursing mothers. My experience has also taught me that unless one has reached a certain financial level in life, you cannot attempt vying for election because even if anybody is going to assist you, you must show evidence of your own commitment. I say this based on my own experience.
My experience has also taught me that politics is a game of number. So, aside the various homework I have done, I have also done couple of empowerment projects. In April 2016, I carried out free eye screening exercises, medical treatment projects and gave out eyeglasses to hundreds of people who needed them in my constituency. I run a foundation known as Keeping Hope Alive Foundation and it's been on for over 20 years but was officially registered four years ago. During festivals, we pay courtesy visits to traditional rulers, police stations, hospitals and indigent families, with gift items. We also foot the bills of some patients where necessary.
Where do you get the fund for all these?
I'm an entrepreneur before being a politician; I am into real estate and many other enterprises.
From your experience at the grassroots level, would you say women enjoy  a level playing-field? 
Like I always say, power is not served a la carte. I keep telling women when they complain about not being given a chance that nobody is ever going to give such to them. Power is never given; you have to go out there and take. You just have to device a means to force them to allow you; by your attitude, antecedent, etc. Let me tell you, a lot of people are yearning for good governance. So, if you are able to convince them that you have such qualities, you stand a chance of being favoured.