By Chioma Obinna
Infertility remains an unpopular topic for discussion even in modern Nigerian cultures.
It is difficult to find couples who are willing to discuss their infertility challenges.   Sadly, there are usually pressures from family, friends and relatives on childless couples. These pressures fall more on the woman. Sometimes, the woman, in the process, loses her dignity and pride in the community while she may be daily violated by her husband. She is called all kinds of names by her in-laws and the community.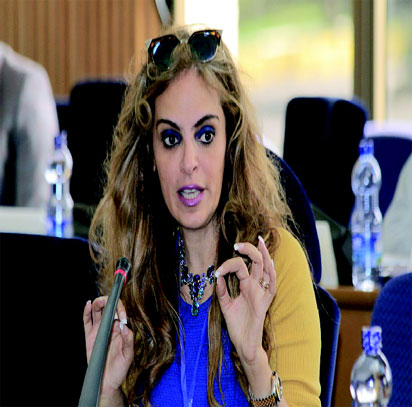 At any slightest provocation, she is used as a punching bag.Although child adoption has gained popularity in many countries across the world, it is still done in utmost secrecy in Nigeria and many other African countries. Fertility treatments are also not a 100 per cent solution as the costs have remained prohibitive and out of reach of many couples. Sunday Vanguard spoke to RashaKelej, who is currently breaking the stigma around infertility and demystifying the problem across 27 African countries under her Merck More than a Mother campaign, during the just- concluded media training in Nairobi, Kenya.
Rasha, through the project, creates awareness about discrimination; stigma and ostracism infertile women go through.   She is also raising awareness that even men can suffer infertility while promoting shared fertility responsibility among couples. Through her project, many less privileged women who suffer from infertility have been empowered. To her, with statistics of one in four couples being infertile, the stigma around infertility should not be ignored.
Excerpts:
In Africa, infertile women suffer huge stigma and discrimination. They are mistreated because they cannot bear a child and their families will encourage them to stay in the marriage. This is not right and it has to change.   I am an African woman. I put myself in their shoes and I don't accept what is happening to them. I know what it feels like because I am a woman, and I know that I can help them.
While I was visiting some villages in Africa for some of our programmes under 'Merck Capacity Advancement Program' where we raise awareness about diabetes, hypertension and cancer, I spoke to many women. A particular woman shared her devastating story of stigma, abuse and isolation due to her infertility.
I was angry because I am a woman. I decided to create a campaign to change the narrative of infertility in Africa and I will continue until the problem is seen as other conditions like hypertension and diabetes. This is how "Merck More than a Mother" started. We are doing this intervention in 27 countries. It is difficult to report issues concerning infertility in Africa but we need to spread the message around stigma. Infertility is not a taboo and that is why there is a need to sensitise men about their infertility.
According to WHO, one in 4 couples are infertile in Africa, 85 per cent can be prevented and 50 per cent due to male-factors.
Demystifying stigma
I will be unfair if I say there are no challenges but there is need to demystify stigma around infertility. Most times when you talk about infertility in Africa, people keep asking why infertility when Africa is already overpopulated. They will prefer you talk about issues like HIV, family planning and other infections. They tend to forget that the stigma around infertility is making it a serious issue. Let us stop the stigma.
Sometimes people think you are crazy. They believe that infertility is a luxury. Infertility is not a luxury but a human right. There are so many men and women who are suffering infertility. We are not just talking about one in a million couples but one in four couples. It is a really too high number to ignore. I also believe that the problem is not about having a baby or not having a baby but there is a lot of stigma and discrimination surrounding infertility. The pressure is really too high and could lead to something really bad like domestic violence, mistreatment and hurting of one another.
I am a woman, a pharmacist; I work with MERCK Foundation owned by MERCK, the oldest pharmaceutical company in the world. Ignoring this aspect of living means people will not get the right information they need. This is unfair and incorrect and not an option.
What is the experience like helping these women?
When I see the women being abused and they accept it in ignorance, I feel angry. I asked why are they doing this to them? Why did they accept? But when we intervene and I discuss with affected women and empower them, I feel proud and feel that it is really something good to talk about.
Men's involvement
African women are stronger than European women which is why they are able to accept mistreatment and stigma. Stigma is like a cloud around them and once removed you will see their potentials. African men have to be courageous and know that infertility is not a stigma, or that something is wrong with their manhood. They should support their wives to build a happy family. African men are kind but it is a matter of having the right information. There is a need for men to come out and support their women, access the right information and the best candidate to help get access to information is the media. This is why we organized the media training for participants from 17 African countries.
How many infertile women have you assisted so far?
There are many success stories, but the most important success story is watching those infertile women's transformation after meeting Merck More than a Mother. These are women that had lost hope and they were just waiting to die.
Through the Empowering Berna project, their lives were transformed from hopeless, helpless women to stronger and productive women in the society and their self-confidence was also restored.
So far, over 1,000 women have been helped and we have trained 50 doctors, fertility specialists, and every one of them goes to clinics and sees 50 patients per week. In Nigeria, we have around 35 women in the project. I have visited Nigeria just once. I go to every country once every two years because I need to be there. This year, I went to Chad, Niger, Namibia and Uganda, Kenya and Tanzania. I am going to Senegal next time and Central Africa. I am from Egypt.
How do you think your campaign can help in Africa?
"Merck More than a Mother" is a unique campaign. We are on social media where people from all walks of life share their experiences. It is very critical for Africa, it is the first time someone is talking and discussing openly this issue that affects those childless women and how they were and still are abused, mistreated and discriminated against by their husbands, families and communities. It is sad, knowing these facts. We must do something about it, it is not a matter of choice anymore, it is our duty and responsibility. The campaign is covering relevant angles of infertility in Africa such as creating a culture shift to respect and appreciate the infertile women, raise awareness about infertility prevention and management and male infertility by integrating it into healthcare infrastructures such as HIV, maternal health and mother and child programmes.
We have trained African embryologists since some of the countries lack experts in this field. The training is designed to improve access to effective and safe fertility care in the continent.
Message
My message to African women with infertility problems is to be strong.   You are more than a mother. Whether you have children or not, you are strong, be independent and you can add value to your society.