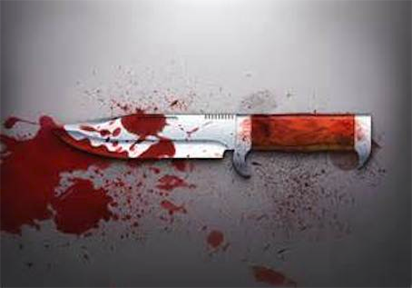 Knife stab
By Rotimi Ojomoyela. Ado Ekiti
A murder suspect, who  was accused of killing a traditional ruler in Ekiti State, Mr Omoniyi Ademola, yesterday disclosed that he decided to murder his king to enable him to reclaim the throne.
The Onise of Odo Oro, Oba Gbadebo Ogunsakin, who was enthroned in 1986,  was stabbed to death in his palace on Wednesday after superintending over a council meeting in the community.
Ademola, who is in his 40's  allegedly  fled the town after committing the murder  before being arrested in Ado Ekiti the state capital city the following day.
While being paraded in Ado Ekiti police headquarters  on Friday, Ademola said his family had duly  nominated him to take over  from the late king but the deceased Oba constituted a hindrance despite the fact that the town had declared vacancy in the throne.
The suspect, who was described to be a lunatic spoke eloquently and showed no penitence for the offence he allegedly committed.
Recounting how the incident happened , Ademola said: "The crown didn't belong to Oba Ogunsakin because the town last year declared vacancy because of the death of our Oba.
"They said our Oba was dead and my family nominated me last December to take over only for him to resurface again and said he remained the Oba.  That day when I got to the palace, it was the late Oba that first attacked me and I responded which led to his death," he said.
The Commissioner of Police, Mr. Bello Ahmed dismissed the insinuation that Ademola was a lunatic, saying: "I am not a medical expert to know who is mentally unstable or not. But the fact remains that, how would a lunatic commit murder and would run over 100 kilometres from the scene of the incident? So, common sense dictates that he must have known what he was doing to have escaped from that town to Ado Ekiti," he declared.
The Command also paraded 25 other suspects, who were arrested for cultism and other murder cases, including a man, Mr. Toyin Ajakaye ,who allegedly hanged an Okada Rider in his farm in Agbado Ekiti on Wednesday.
Speaking earlier, the CP said  his men were closing in on the killers of Mr. Bunmi Ojo, former Personal Assistant to ex-Governor Segun Oni, who was killed by unknown gunmen on August 10.
"We are on the trail of the killers, we have reached advanced stage. Some suspects had been arrested and they are helping the police.