The Inspector-General of Police (I-G), Mr Ibrahim Idris, has urged  officers and men  of the force to always act within the confines of the law of the nation in carrying out their mandate.
Idris gave the warning at a meeting with Commissioners of Police and above on Wednesday in Abuja.
"All our actions must be to preserve law and order all over the country,"he said.
The police boss warned that the force under his leadership would not condone the continued killing of officers who put their lives on the line to ensure peace and security.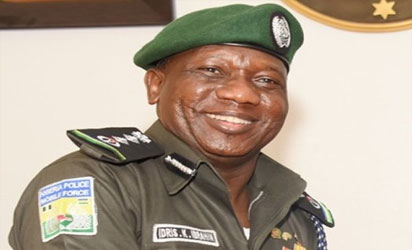 "The Nigeria Police Force will not tolerate the killings of its officers across the country.
"We are going to continue in the mop-up of illegal arms in the country for the integrity of the country,"he said.
He directed commissioners of police in the various commands across the country to ensure that such killings were curtailed.
Idris said that the deployment of personnel would continue in Benue, Zamfara and other areas having security challenges in the country.
He urged commissioners of police in charge of the various commands where elections would be held this year to support personnel that would be deployed there.
He also advised the commissioners to constantly interact with the stakeholders in the various communities to bridge the communication gap between the force and Nigerians.
The commissioner commended the commissioners for their commitment in spite of the current security challenges.
On the siege of Benue Assembly by police personnel, Idris said that police was not partisan as claimed in some quarters.
"The Nigeria police force does not take side in any issue, we are only committed to the development of the country,"he said.
He said that the massive deployment of personnel for election duties in states was based on the need to maintain peace.
The police boss said that the force would also deploy enough personnel for the Osun governorship election scheduled to hold in September.
NAN