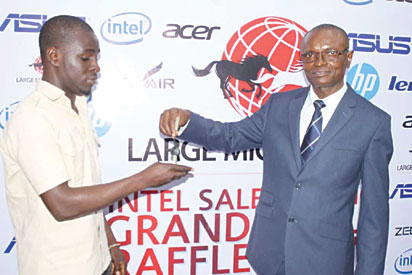 *MD, Large Michaels Ltd, Mr. Michael Ezeamama presenting the keys of the star prize, Kia Rio , to the winner, Mr. Chigozie Igboanude of Reidata Nigeria Ltd.
Luck smiled on Chigozie Igboanude, a computer and phone accessories trader at Saka Tinubu Lagos, Tuesday, when he was announced the winner of a brand new Kia Rio car 2014 model, at the grand finale of the Large Michaels sales promo in Ikeja.
Large Michaels Limited, is an indigenous distributor of laptops and other computing accessories. The company, in collaboration with its partners, HP and Intel, flagged off a sales promo which saw many of its customers smile home with different consolation prizes including laptops, printers, microwave ovens, set of pots, air fryers, in addition to the star prize of brand new Kia Rio.
The promo which ran for six months, ended Tuesday after Igboanude emerged star prize winner through a raffle draw conducted publicly in the presence of representatives of Lottery Commission and Consumer protection Council, CPC.
Speaking at the presentation ceremony, the Business Development Director, Large Michaels Limited, Mr. Stanley Uzoechina, said the promo was not only to increase sales but also to appreciate customers who have consistently trusted in the business fidelity of the company.
Uzoechina said that besides the promo, there are other times the company would reward customers instantly as they make purchases. He added that customer appreciation and reward were in the company's DNA and have formed the basis for which it desires to open branches across Nigeria to touch more lives.
Speaking after winning the grand prize, an extremely excited Igboanude said the miracle of suddenly becoming a car owner is one that would take him a long time to stop narrating; adding that companies like Large Michaels will always prosper where others who do not care about their customers are complaining of hard times.