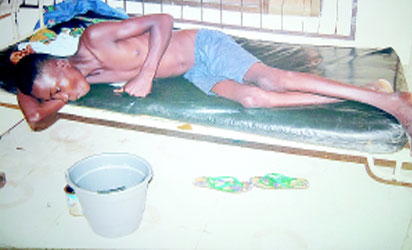 The late Dominic vomiting blood at his hospital bed before his death.
Benin – Unidentified hoodlums on Wednesday killed a 70-year-old woman, Helen Udugbezi, at her residence in Benin.

The hoodlums were alleged to have used a big stone to kill the deceased.
The housemaid of the deceased, Anna Amos, who was at home when the incident occurred, alleged that she was almost stabbed and raped by the hoodlums.
The maid also alleged that she was gagged and blindfolded by the hoodlums before they killed her madam.
She said, "I was working when the boys entered the house. I wanted to shout and one of them wanted to stab me.
''Another one said I was still a small girl; they tried to rape me but I said no.
"I heard a noise but I didn't see what they were doing.
''Then, they put a stone on my hand and asked me to say I kill mama."
However, the son of the deceased, who gave his name as Harrison Udugbezi, said that he was surprised that his mother was killed in such a brutal manner.
The spokesman of Edo Police Command, DCP Chidi Nwanbuzor, confirmed the incident, adding that police had commenced investigation into the matter. (NAN)