Abuja – Emmanuel Ikpeme, the Acting General Secretary of the Giwa-led faction of the Nigeria Football Federation (NFF) has appealed to Nigerians to remain calm over the invasion of the NFF Secretariat by the Department of State Services (DSS).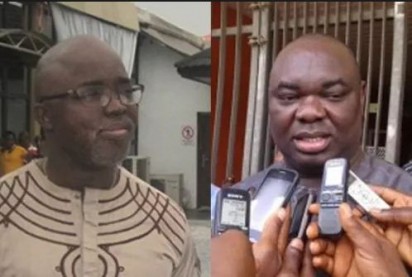 Some operatives of the DSS had allegedly assaulted Ikpeme when he attempted to resume duty at the NFF Secretariat on Thursday.
Ikpeme said the that the action of the DSS operatives was illegal and condemnable.
He expressed shocked that operatives of DSS, paid by taxpayers money, could lay siege at the Football House and also assault him without any provocation.
"I had just driven in, parked when some people walked up to me. I tried to introduce myself to them, when they asked me to enter my car and drive off.
"I was walking towards my car to leave, when from behind they started pushing me," Victor Iroele, Giwa's Senior Special Assistant (SSA) said in a statement quoting Ikpme a explaining.
"I am shocked to say the least by what happened at the Glasshouse on Thursday by operatives of DSS, even without identifying why and who sent them to lay siege at a facility that has no threat to public peace," he said.
The acting general secretary noted that the Giwa-led NFF faction was law abiding and would not take laws into their hands, but would continue to explore the path of peace and justice to settle every score.
"We want to appeal to anyone, who is behind the DSS invasion of the football house to advise them to quietly leave the premises as their action has been reported to the relevant authorities for investigation and appropriate action.
"More worrisome is their penchant for chasing staff away once it is 4 p.m., irrespective of what assignment they are doing, and which has affected productivity and morale with most staff now struggling to come to work," Ikpeme said.
"I have kept quiet over time believing common sense will prevail, but the action against me on Thursday was a confirmation of the fears of most staff that their personal security was under threat by gun welding DSS operatives walking around everywhere in the Glasshouse," he said. (NAN)