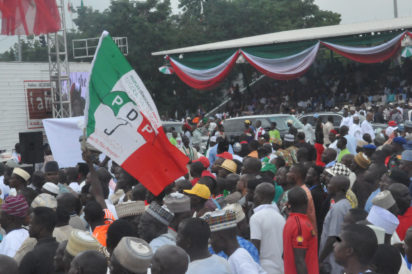 By Chinedu Adonu
ENUGU—SENATORIAL aspirant for Enugu North senatorial zone, Mr. Chinedu Eya, has called on the leadership of his party, the Peoples Democratic Party, PDP,  to grant  him waiver, as well as other Nigerian youth  aspiring to contest elections under the umbrella of the party, as the party commences sale of Expression of Interests and Nominations Forms for the 2019 general elections.
Eya who spoke against the backdrop of the   approval by National Executive Committee, NEC, of his party which recently released the guidelines for the 2019 general elections, maintained that in keeping with the party's promise to enhance the inclusion of young persons in the democratic process of the country, they should grant waivers to the youths  to enable them contest elective positions.
In a statement by his media adviser, Gwiyi Solomon, Chief Eya posited that having worked for the party in convening and coordinating, "Why it must be PDP in 2019" (WIMBPDP2019), a pressure group with a wide membership across the 36 states of the federation, he should be given a waiver for the purchase of Interest Form.
Eya elaborated that his organisation, "Why it must be PDP" has since its existence in 2015 carried out a lot of activities, championing the party's cause, defending it from the ruling party's tyranny and politics of vendetta through aggressive press statements.
"I am equally a sponsor of several political ambitions which lastly included sponsoring Samuel Ugochukwu Ugwu for Nsukka Local Government chairmanship election of 2017.
"At the state level of our party, I am   the state wide initiator of "No Vacancy in the Lion Building, Gburugburu till 2023″. This is a group at the state level of our party agitating for the retention of the PDP and Hon Ifeanyi Ugwuanyi till 2023.So, why should I, having been spending my personal resources to promote the party, pay heavily for the purchase of our party election forms?" Chinedu queried.
He equally noted that if "all female aspirants are exempted from the payment for the purchase of nomination forms for all offices except national and ad-hoc delegate categories,  same gesture should be extended to Nigerian youths."