By Emman Ovuakporie
ABUJA—THE House of Representatives Committee on Ports, Harbours and Waterways, yesterday, tackled government agencies that failed to submit memoranda as it began a 3-day investigative hearing on alleged disposal/occupation of land belonging to the Nigerian Ports Authority, NPA, the Nigerian Shippers Council, NSC, and National Inland Waterways Authority, NIWA, and other notable government agencies.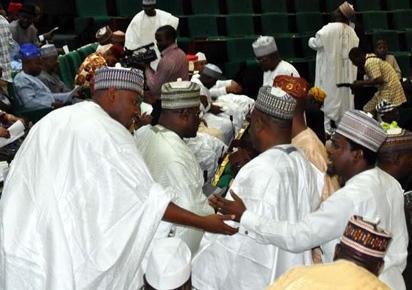 The committee, during hearing on alleged illegal disposal/occupantion of land belonging to NPA and NIWA and other maritime stakeholders, ordered all the agencies that failed to submit their memoranda to do so within 24hours.
Also, 37 of the 80 agencies that were invited shunned the committee's invitation as they failed to send representatives to the probe panel.
Chairman of the Committee Pat Asadu, PDP Enugu, in his opening remarks at the event, noted that financial improprieties, infractions and other unwholesome practices at the NPA, NIWA, Nigeria Shippers Council and other maritime regulators and operators was affecting the nation's port development.
He hinted that the investigation was predicated on referrals to the committee by the House on the alleged disposal of land by the NPA and other infractions by the agency and other maritime stakeholders and added that it was not intended to hitch hunt anybody.
However, the lawmaker while reading the roll call of invited stakeholders, discovered that thirty-seven companies invited by the committee neither sent a representative nor a memorandum.
Among the notable government agencies which shunned the investigative hearing include the Bureau of Public Enterprises BPE, Bureau of Public Procurement BPP,   Infrastructure Regulatory Commission ICRC.
Other maritime operating companies which also shunned the probe panel include the Ports and Terminal Operators Nigeria Limited, West African Container Terminal, Five Star Logistics Limited,   Clean Environmental Services Limited, Calabar   Channel Management, Eko Support Services Limited, Landfall Transport and Towage Towage Nigeria Limited and Coastal Services Nigeria Limited, Aquamarine Boat Club Limited among others.
Some of the maritime companies that sent representatives at the hearing included Eko Marine Terminal Limited, Ports and Cargoe Handling Services Limited, ENL Consortium Limited, Greenview Development Limited, Brawal Oil Services Limited and Integration d Logistics Company Limited INTELS.
But the Managing Director of NPA, Hadiza Bala Usman, in her presentation, told the committee that the agency acquired and later disposed some of the said properties when they were being encroached upon by squatters and state governments.