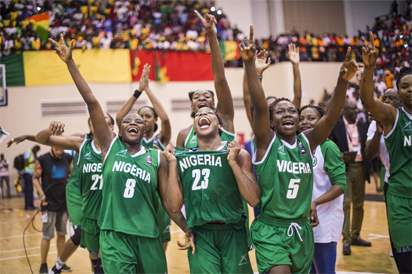 Like the abrupt termination of duties of Afrobasket winning head coach Sam Vincent wasn't enough distraction for the Nigerian Women's national Basketball team currently preparing for the FIBA World Cup in Spain, more drama has evolved.
Sources reveal former captain Aisha Mohammed has a formal complaint filed against her by her D'Tigress team mate Ijeoma Ajemba for assault in the US.
The chaos at the Atlanta base of the African champions hit ultra high on Monday August 13th, 2018. When Ajemba was said to have notified local authorities about an altercation involving the 2017 Afrobasket winning captain, Mohammed, herself and three other D'Tigress players trying to break the squabble at the lobby of their hotel base in Atlanta on July 27th,  2018 at 1:50pm ET.
One of witnesses at the hotel revealed Ijeoma Ajemba who was hit twice in the face by Mohammed made a formal complaint to the Police in frustration on Monday after the Federation decided to fine Aisha Mohammed $100 and stripping her off her leadership role while Ajemba got fined $300 and expelled from the team after a disciplinary hearing at 4:30pm ET on the day of the fight, after seeing the judgement unfair punishment which was allegedly induced by Team Manger Mactabene Amachree, who is said to have a cordial relationship with the now former captain according to the source.
Another source close to the player revealed she (Ajemba) actually sought redress with the Team manager, Nigeria Basketball Federation board members in Atlanta and Federation President Musa Kida ( via email) to appeal the judgement but yielded no response from the President or any of them.
In fact the source claimed The Team General Manager Mactabene Amachree threatened player for appealing and was quoted saying
"You are done with Nigeria Basketball Forever".
"The Federation and I will be protecting Aisha on this matter".
The words was said provoked her (Ajemba) to take the option to seek external justice for the poor judgement and treatment amongst other entitlements being owed and deprived her, as she was thrown of the national camp by the TM.
With the team due to leave for Lagos, Nigeria on Saturday for the 2nd phase of camp, it's not clear if Aisha Mohammed will be eligible to leave the US or be a part of the team for the World Cup with a court case looming and her position as team captain effectively taken from her with Adaora Elonu who is not in camp at the moment installed as the new captain.
We have tried but have been unable to establish communication with Mohammed to get her comments at this time.