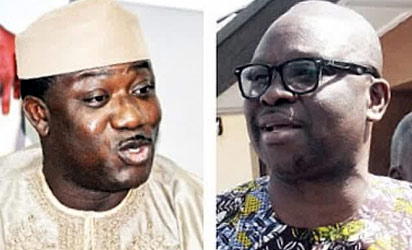 Fayemi and Fayose
Fayemi and Fayose
By Rotimi Ojomoyela
Ado-Ekiti- The last minute massive recruitment exercise by the outgoing administration of Governor Ayodele Fayose has been described as a deliberate effort to put obstacles in the way of the in-coming administration of the Governor-elect, Dr Kayode Fayemi.
No fewer than 600 teachers have been recruited to the Teaching Service Commission, while 400 staff were employed at the State Universal Basic Education Board (SUBEB) and 1000 at the Ministry of Establishment
A statement by the Director of Media and Publicity in the Office of the Governor-Elect, Wole Olujobi, berated Fayose for embarking on a last minute mass recruitment to deceive the unsuspecting victims and set a booby-trap for the incoming administration.
Noting that Fayose was deliberately creating obstacles for the new administration having not employed one person in nearly four years, the statement wondered why the governor embarked on mass recruitment in the last few days to the end of his term.
Saying that Fayose was playing on the intelligence of the people to paint a picture of a man of the masses in clear infraction on the law, Olujobi explained:
"It is a grand deception and sheer wickedness for a governor that has refused to pay workers and pensioners for between six and 10 months to now turn around to recruit about 2,000 workers in a selective manner to favour his supporters only."
Olujobi described Fayose's planned recruitment as an act of desperation by a governor who never cared for the people but would always take advantage of them in a most dehumanising manner.
"Once again, we call on Ekiti people as we did in our recent press release to be wary of Fayose's last minute illegal deals, transactions and mass recruitment which do not follow due process. Any transaction so done shall be reviewed by the incoming administration," the statement concluded