…says, some pageants are full of ugly stories.
Cecilia Adeojo is the winner of the recently concluded 'Miss Face of Kimber 'online contest. The fair complexioned pretty won the first ever online beauty competition alongside other contestants that emerged as beauty queens.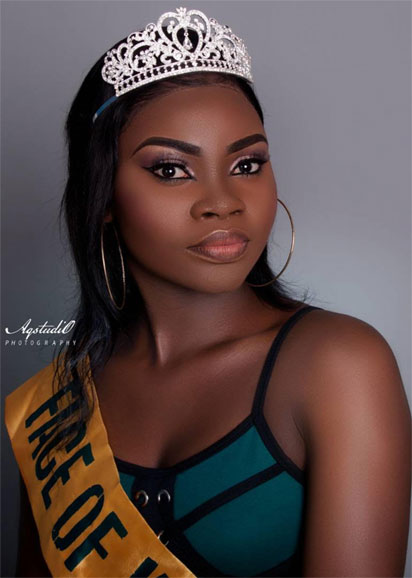 She is a 300 level Computer Science undergraduate of Lagos State University, Ojo, Lagos and hailed from Oyo State, Nigeria.
After several attempts in other beauty pageants without success, the beauty queen, undaunted forged ahead to actualize her dreams to become a beauty queen. According to her, it is dreamed nurtured since she was a child.
And having made first and the second attempt that turned out gory, according to her, she stepped up her belief in her inner conviction to prove that her beauty can sell. She won the 'Miss Kimber online beauty contest' as a queen and is set to leverage on her potentials to reach 'Miss World.'
Talking about how she developed the interest in beauty pageantry, she has these to say, "I am the fourth child of a modest family of five children. I grew up in a middle-class environment in Lagos and held from Okeho in Oyo State. I am a 300 level undergraduate of Lagos State University, Ojo, majoring in Computer Science.
I have always wanted to be a beauty queen and also needed a platform to prove it because I have a passion for fashion and beauty since I was a child. It's a subconscious intuition that I developed.  Initially, I was into modeling on freelance bases.
It wasn't easy though, after several attempts, but I persisted before I came across the online contest organized by the House of Kimber concept. I have participated in a "Face of Nigeria beauty contest show in 2015; Miss Nollywood beauty contest held in Bayelsa State, in 2016."
Cecilia didn't find it funny to explain some discrepancies that marred her initial attempts. "In the two attempts, I participated very well but could not reach the finals. In the Nollywood beauty contest held in Bayelsa State, I may say, I am one of the pretty contenders, but the event took a different dimension when I noticed some foul play within the camp. I put in my very best to prove points, but unfortunately, I did not win. A lot of things went wrong in the camp."
Cecilia was quick to add that the organizers invited the contestants, one after the other for a private discussion and in the process, demanded sex, or an alternative of paying more money to secure a place in the final round. "To me, I found it strange and I don't even have enough money on me as I was sponsored to the contest.
Besides, I met all their requirements and did not expect such a surprise perhaps, as a first timer. But alas, I became confused and was put off because what I expected was a result based on performance and not on favouritism. As all these ensued, my roommate and I purported to resist such demand but to my surprise, most of them emerged winners while I was edged out. I felt frustrated and cheated. That alone made me feels uncomfortable with beauty competitions."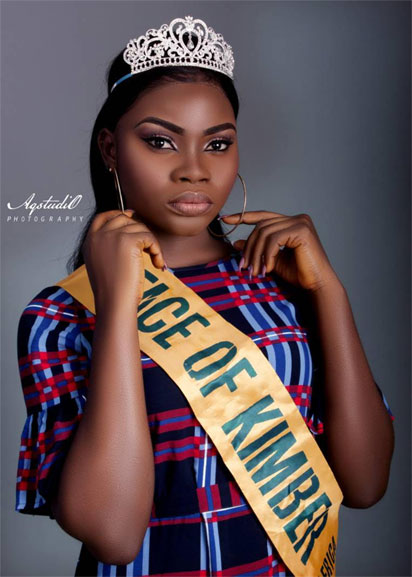 Having stood her ground on maintaining integrity, the new Face of Kimber queen believed in her dreams and moved on. "Meanwhile, 'Face of Nigeria' contest was different. When I checked their online portfolio and requirements, I decided to participate. 'Face of Kimber' beauty pageant is an online contest.
Having experienced some good bad and ugly ordeal in the hand of the former, I discovered that Face of Kimber contest reawakes my desire to move on. It is an online show that requires less visibility. Secondly, the requirements are less stressful compared to others since it is an online show. I also checked their procedures and conclude that it is quite different from others. I enrolled and was enthralled when I was picked, having met their requirements to contest.
"The contest was very interesting. All it requires is your pictorial folio on screen. The voting is simple. It is based on a number of online votes you garnered that forms your winning streak. I did my best and I won. That alone rekindled my faith in pageantry."
"When I got a call from the organizer that I won, I was stunned. For the first time, reality stared at me on the face. I was happy and my overwhelmed state rekindled my hope in my dreams. The victory made me change my perception of pageantry. I realize through this contest that all pageantry and organizers are not the same. There is some online contest that still requires your physical presence and personal interaction.
However, 'Face of Kimber' is purely online. From the onset, until the end when I was announced as a winner, I never get to see the organizers, nor even know any of them. I only happen to see them when I was crowned. However, my victory did not change my perception of what goes on in other camps but I still believe some are real."
'Face of Kimber' is quite different from others. The organizers are real and the integrity check I did online about them proved real also. They restored confidence in me. With this, I became convinced that one's best can be called best without bias.
The victory is overwhelming especially when friends and even people I don't know kept calling, congratulating me. I felt like a real queen after been in the pageantry contest for over four years without success. At a point, when I told my friends to vote for me on this one, they are like doubted saying, "Again, are you still in the race again." When I was announced the winner of the Face of Kimber', they celebrated me.
All through my effort to participate in beauty pageantry, I have my parent's support. Another very important influence in my career is my fiancé. He has encouraged and supported every move to contest, alongside a very good friend, mentor, and an icon, Tobi Phillips, ex-beauty queen, 'Sisi Oge' beauty pageant. She mentors and encourages me to continue especially when my spirit is down.
I have come to realize within my trials in beauty pageantry that in life, one has to learn and know something he does not know. Whatever, one encounter and hold on to in life can be used anytime. Also, meeting people that will positively influence your life decisions is important because it is people that will always make or mar you in life.