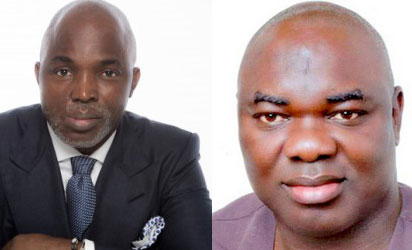 Pinnick and Giwa
Pinnick and Giwa
Erstwhile Nigerian Internationals – Austin Eguavoen, Isaac Semitoje and Edema Fuludu – have expressed concern over the unending Nigeria Football Federation (NFF) crisis between Amaju Pinnick and Ambassador Chris Giwa.
The trio advised the parties involved to settle the matter amicably adding that the country's interest should be put first before personal interest.
According to Eguavoen: "There is actually no need for all this crisis. There is a football body that is solely responsible for matters that has to do with football.
"You remember the last time we had such problem, Nigeria suffered a ban from FIFA, and it affected our football. So, we do not want such thing to happen again. My advise is that the parties involved should try as much as possible to put their house in order so that our football can move to the next level.
Isaac Semitoje calling from his Denmark base said: "The crisis in Nigeria Football Federation (NFF) is nothing but greed on the part of those saddled with the responsibility of overseeing the affairs of the game in the country.
"In Europe, have you ever heard of football managers fighting over leadership position? Those NFF football managers have discovered that there is too much money in Glasshouse. That is why they are fighting to kill themselves."
For Edema Fuludu, he said: "It is actually not in the interest of our people to get entangled in crisis when other serious football nations of the world are already mapping out plans for the next world cup and other FIFA competitions."