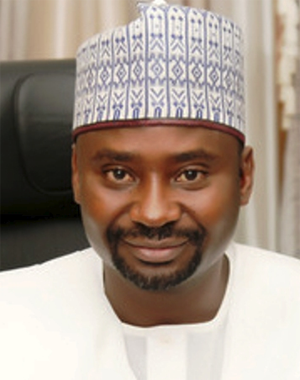 Alhaji Muhammad Sani Sidi
Sacked former Director-General of National Emergency Management Agency (NEMA), Malam Mohammed  Sani Sidi, on Tuesday, joined the governorship race in Kaduna.
Sidi, who was sacked in April by the Buhari administration , gave the indication when submitting his letter of intent to the State Executive of the Peoples Democratic Party (PDP), in Kaduna.
The entrance of Sidi brings to four the politicians seeking  the PDP ticket  to run for the Governorship seat  in Kaduna State.
Sidi said:  " I consider the warm reception you have accorded me and my supporters here as an honour and a rare privilege, considering the short notice I gave you in the midst of your very busy schedules. I remain forever grateful for the honour and privilege.
"I am here for two reasons. First, I am here to express my appreciation to you Mr. Chairman and your working committee for all your efforts and sacrifices to ensure that our Party and the PDP family continue to remain virile, focused and united.
"This is  in spite of the myriad of challenges that continue to shake their fists before your faces.
"It is this resilience of yours, our leaders that kept our Party from being devoured by wolves that disguised in sheep clothing.
" It is for this your tenacity, that we still have a party today called the PDP.
"It is for this your resoluteness that we still have hope for the common man come 2019," Sidi said.
Sidi said he was in the PDP secretariat to formally declare his intention to contest the governorship of Kaduna State in the  2019 general elections on the party's platform.
He said his decision was taken after due consultations with his family, friends, political associates and key stakeholders across the State.
" I have come therefore to seek for your blessing and prayers.
"My desire to run for the office of Kaduna state governor springs from my burning passion to rescue our dear state from systematic destruction," Sidi said.
According to the politician, "my aspiration is a rescue mission to save our State from further drift into total collapse.
"My vision for Kaduna state is one of a peaceful, united and prosperous state.
"God has endowed our dear state with abundant human and material resources, and one of my main goals is to provide the necessary visionary leadership that harnesses these resources together to transform the state for our collective good.
"Although in opposition, our party the PDP is still the biggest, strongest and most united.
"Under my leadership, I will ensure the entrenchment  of the Principle of Party supremacy where all of us are subjected to the supremacy of the Party irrespective of our political status."
Sidi was sacked in April by the Federal Government over the theft of over a billion naira, $284,000 and £95,000 from NEMA.
Seven of the agency's directors were suspended with him.
In a statement by the presidency, Sani Sidi was accused of  maintaining  20 different accounts in various banks despite his public servant status. He is now under investigation by the Economic and Financial Crimes Commission (EFCC).
Politicians including the immediate past Governor, Dr Mukhtar Yero, former Controller Finance at ECOWAS, Dr Muhammad Sani Bello and Alhaji Shuaibu Idris, had formally submitted their letters of intent to vie for the Kaduna  governorship ticket.