By Sola Ogundipe
Towards finding a lasting solution to the problem of Endometrios which is a common cause of female infertility, the Endometriosis Support Group Nigeria, ESGN, in collaboration with the Nigerian Institute of Medical Research, NIMR, is carrying out a National survey on dysmenorrhea (painful periods) among girls in secondary schools Nigeria.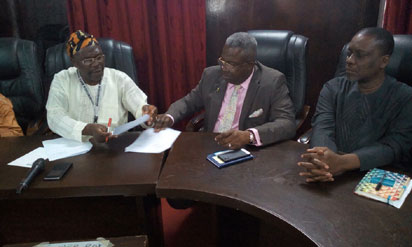 At the signing of a Memorandum of Understanding, MOU, between the two parties in Lagos to mark the kick-off of the exercise, it was revealed that the outcome of the study would be communicated to the Minister of Health for formulation into  policy.
In an endorsement of the survey, Director General, NIMR, Prof Babatunde Salako,  noted that dysmenorrhea is one of the common causes of endometriosis which if detected early helps  avert future infertility challenges for affected individuals.
"ESGN is concerned about the rate of endometriosis in the country and they approached us to carry out the research  on dysmenorrhea as it affects young girls and to reduce the impact of endometriosis among women of reproductive age.
"We are looking at this through assessment of dysmenorrhea which presents as painful discomfort during the women's menstrual periods.
"For young girls in school, this may be troublesome especially for those who might be menstruating for the first time and this might affect their ability to pay attention in class and to cope generally," he noted.
"We believe that it is a study that will be beneficial, we will offer technical support in the form of personnel and laboratories and other facilities.
"We will be looking at the area of symptoms and the kind of results that would be stemmimg out of women's health and girls health," he stated.
Salako said NIMR would be inviting the Principal Investigators that will be responsible  for the research noting that the Department of Planning and Research of the Federal Ministry of Health would be involved to ensure policy makers are part of the survey from the beginning.
"NIMR is also going to seek advice for intervention by the State Ministries of Health and Education and pass on specific results for each State.
The Director General explained that for awareness sake, the exercise would enable the Institute know the health concerns within the various communities.
"As a provision for dissemination of the survey, the simple do's and donts that we are able to bring out can easily be  passed on to the community."
Also speaking, the  Founder/Trustee, ESGN, Dr. Abayomi Ajayi, said the essence of the survey was to provide a baseline.
Ajayi, who is also Medical Director, Nordica Fertility Centre, Lagos, Abuja & Asaba, said the survey would  provide a baseline for intervention and to enable comparison of the impact across the Federation.
"The figure we commonly quote is about 42 years old and was from a study done by Oduntan in 1976. Other available figures are smaller, Oduntan looked at about 2,000 girls. These are localised figures but we thought they are not representative enough. So we decided to look at the nation as a whole and get  National figures."
Ajayi said the survey targets 30,000 secondary school students Nationally and would be carried out  on a quarterly basis.
"The survey is among secondary school girls aged 11-14 years and in late junior secondary school to senior secondary school. The girls will get knowledge and health education. We are going to find out how they treat dysmenorrhea and then tell them what exactly they need to do when they are confronted by the condition.  It is a novel opportunity to gather as much information as possible.
"We are looking at 19 States and have chosen the Principal Investigators  in 7 States and are meeting with them  to choose their field officers.
According to Ajayi, in Nigeria, only 20-30 percent of endometriosis cases are being diagnosed because of limitations of facilities, awareness, etc.
"We thought the best way to nail the condition is to go directly to where it starts, and that is among young girls in secondary school when they are just starting their menses.
"Endometriosis affects women's personal and marital life and we thought it might just be a good thing to find out the prevalence in Nigeria. When we thought of the idea, the only partner in mind was NIMR. Fortunately and it was not difficult to convince them.
Noting that the time frame for the survey would depend on how soon funds are raised, Ajayi said it is estimated to cost between N2 million and N3 million per State.
Ajayi observed that there are girls that ought to be  doing fertility preservation right now, so if Mr Right is not coming they know that they have options.
"It is a whole gamut that we can get from this study, and we  need the figures. We will also be educating the girls as we go along on the study. We know what their practices are and we will be taking these into consideration. We see it as a big thing that can be of benefit to the nation and the girl child."