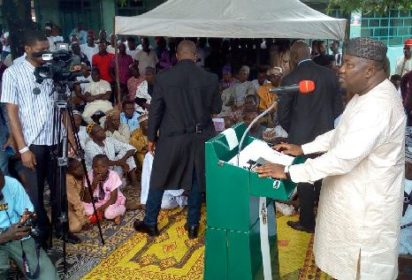 GOVERNOR Ifeanyi Ugwuanyi of Enugu State yesterday joined the Muslim community in Enugu at the Central Mosque, Owerri Road, to celebrate the feast of Eid-el-Kabir, calling for special prayers for President Muhammadu Buhari, Vice President Yemi Osinbajo and other leaders in the country.
Ugwuanyi, who was warmly received amid jubilation by Muslim faithful, including the State Commissioner for Police, Danmallam Mohammed, the State Director, Department of State Services, DSS and Sarkin Hausawa, Alhaji Abukakar Yusuf Sambo, among others, felicitated with them and called for a special prayer for Enugu State.
The governor expressed delight at the existing peace in Enugu State, noting that "this has brought development.
"As you celebrate in this season of sacrifice, may we all continue to see one another as brothers and sisters for the good of our dear state and our dear country Nigeria," he added.
The Muslims, who appreciated the presence of Ugwuanyi at the Mosque to celebrate with them also prayed for him and his administration for the guidance, peace, protection and blessings of Allah. The jubilant Muslim faithful equally commended the governor for the good works he is doing in the state and reiterated their firm support for him in 2019 and beyond.
Speaking, the Sarkin Hausawa, Enugu State, Alhaji Sambo added that the feast of Eid-el-Kabir, "which is the Eid of sacrifice", equally offered them the opportunity to celebrate the governor, saying: "we are also celebrating you because we have seen the significance of today in you".
Alhaji Sambo disclosed that Gov. Ugwuanyi has demonstrated love and a style of leadership that promotes "unity, togetherness and love for both religions", maintaining that the governor is "indeed a great man," who has visited the Mosque on several occasions to identify with them.