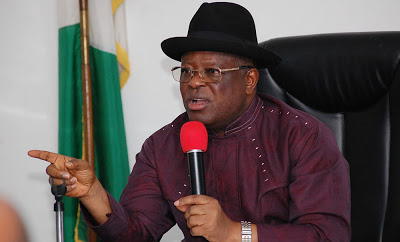 Umahi
Umahi
By Peter Duru
ABAKALIKI — THE All Progressives Congress, APC in Ebonyi State has said that the persisting division in the state chapter of the party will not stop it from removing the present Peoples Democratic Party, PDP administration in the state.
The APC in Ebonyi is presently factionalised between loyalists of the minister of science and technology, Dr. Ogbononnya Onu and those of Senator Julius Ucha.
Not surprisingly, the governorship aspirants in the state have taken to different camps with Dr. Onu having among others, the former Commissioner for Works and Transport, Engr. Paul Okorie; Senator Sunny Ogbuoji; former Secretary to the State Government, SSG, Prof Bernard Odo; Mr. Christian Chukwu a.k.a Bible; Arc. Edward Nkwegu; former Commissioner for Works and Transport, Chief Austin Edeze; and Mr. Chukwuma Nwandugo. The most prominent governorship aspirant on the platform of the Senator Julius Ucha led group is Mr. Steve Egbo among others.
How the party divided as it is would be able to confront the formidable political machinery of Governor Umahi is one that is causing party adherents to tremble.
In a chat with Vanguard, an APC chieftain in the State, Chief Onyekachi Nnabu who traced the background of the crisis rocking the APC in the state to 2014 stressed that the development would definitely impede the chances of the party clinching the 2019 governorship election in the state.
"Since 2014, the APC has been factionalized and up till now the current leadership of Adam Oshiomole has not resolved the crisis in the state; one faction is led by the Minister of Science and Technology, Dr. Ogbonnay Onu who has pastor Eze Nwachukwu-led executives under his auspices; the other side has the former senator.
Julius Ucha's faction controlled by the party leadership of the former commissioner of agric, Dr. Sylvester Nwambe as State Chairman.
"The faction has created parallel state executives in the state; the party in the state is confused; the national body has not done anything to harmonize and bring unity in the party; it has given PDP the amble chance to consolidate and win the 2019 governorship election; the internal wrangling and bickering which will make the party not to make any headway in the governorship election."