By Vincent Ujumadu, Awka
WIFE of the Vice President, Mrs. Dolapo Osinbajo, Friday urged Nigerian women to take their rightful place by venturing into the political affairs of the country, insisting that women could not afford to hand over the lives and destinies of their children to unfaithful politicians.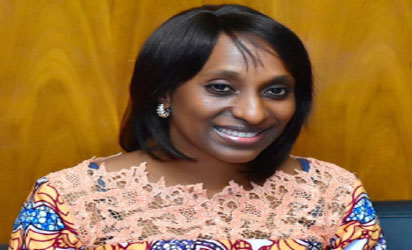 Speaking at the 2018 Anambra Mothers' Summit held at the Alex Ekwueme Square,in Awka,Osinbajo described politics as something that controls and determines lives of the citizenry, maintaining that gone were the days when women sat behind and allowed men determine who governed them.
She reminded them of the numerous sacrifices they made in the upbringing and training of their children, including the nine months pregnancy they endured and argued that they were major stakeholders in the polity.
"You should not only join politics, but give maximum support to those who are already in. When the time comes, you should choose those faithful men and women who will say it and do it," she said.
She commended the governor of the state, Chief Willie Obiano for allocating forty percent of appointments to women in his cabinet which had provided opportunity for them to contribute meaningfully to the growth and development of the state.
She also applauded the wife of the governor, Mrs. Ebelechukwu Obiano, as well as the women in the state for their hard work and selfless disposition, which were evident in the various developmental strides in their various communities.
In her speech, Mrs. Obiano, urged women to rise to the challenge of partaking in societal rebirth urgently needed in the country.
She said: "The best way of measuring the impact of 2018 Mothers' Summit is through a recognizable increase in our women's participation in vibrant and responsible leadership activities across the states and at the national level, particularly as the tempo of 2019 political activities continues to rise.
"As we embark on the simultaneous August meetings in communities across the South East, we must remember that there is no other group better placed to carry the message of peace and advocacy for greater role for women in politics and leadership than all of us
"I am optimistic that the women through the summit will take advantage of the already existing cooperation among them through organization of a pan-South East Summit for women to be hosted in rotation among the states.
"Such a forum, with high impact cultural value, will be a major boost to the politics and economy of the zone as our women start speaking with one voice on key issues."
The well attended event attracted the Minister of Women Affairs, Mrs. Aisha Alhasan, wife of the former President, Olusegun Obasanjo, Mrs. Bola Obasanjo as well as wives of Enugu and Delta states governors.
The highlight of the event was the distribution of various items brought by Mrs. Osinbajo. They include 200 bags of rice, 100 wrappers, prayer booklets and other empowerment items.