NIGERIANS in South Africa feel increasingly abandoned to their fate as the spate of xenophobic killings continues. As at May this year, the Senior Special Adviser to the President on Foreign Affairs and Diaspora, Mrs. Abike Dabiri-Erewa, had on a visit to South Africa's High Commissioner to Nigeria, Mr. Lulu Mnguni, declared that 116 Nigerians were killed in the past two years.
Curiously, 63 per cent of these killings were carried out by the South African Police. Since then, the figure has climbed with the killing of two more Nigerians recently. While South Africans and their brutal police officers often claim the killings are linked to the alleged criminal activities of the victims, President Buhari's Adviser, Professor Itse Sagay ascribes the targeting of Nigerians to "envy killings" due to the enterprising ability of our citizens living in South Africa.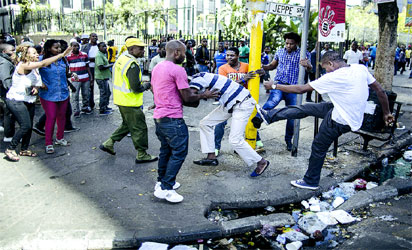 The xenophobia factor appears to hold a lot of water because if it was merely a question of crime, the Police should enforce the law rather than take the law into their hands by being at the vanguard of the killings. Besides, South Africa is already tops among the countries that regularly deport Nigerians. What credible excuse can there be for these killings which usually go unpunished?
The attitudes of the governments of both countries do not help the matter. South African diplomats always pledge willingness to cooperate with Nigeria to find lasting solutions without any change in outcome. Nigeria's Foreign Affairs Minister, Geoffrey Onyema, once described the number of Nigerians killed in South Africa as "minimal" compared to the number of Nigerians living in the country. Meanwhile, the Early Warning Signals (EWS) system to identify risks before actual killings take place has failed by the admission of both sides.
More interestingly, Nigeria and South Africa have refused to recognise the jurisdiction of the African Court on Human Rights in line with Article 34(6) of the Protocol establishing the court. This makes it difficult for culprits found culpable for xenophobic attacks to be brought to book. Besides, South Africa threatens to pull out of the International Criminal Court by revoking the Rome Statute which President Mandela signed in July 1998. There is, therefore, no neutral platform for the pursuit of justice once countries fail (as South Africa has been failing) to bring xenophobes to book.
We call on the Federal Government to wake up and protect Nigerians wherever they live in the world. It is their constitutional duty. South Africa has a lot of economic interests in Nigeria which we can use to force it to protect our citizens in their country. South African businesses are thriving in Nigeria, and South Africans are safe.
Besides, Nigeria fought for the abolition of Apartheid in South Africa. This cannot easily be swept under the carpet. We demand justice.