By Progress Imene
I may not be a political juggernaut or party chieftain but as an APC supporter who loves nothing more than to see Delta State Governor, Ifeanyi Okowa, gone in 2019, I must admit that nothing I have seen from the opposition so far indicates our preparedness to give Okowa any fight that would result in such outcome.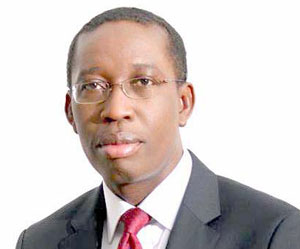 While busying ourselves fighting over who will control the party's structures, Okowa is busy commissioning project after project as if he has seen through our leaders and come to the conclusion that they have nothing to offer and that at the appropriate time Deltans will see through our grandstanding and side with him against us at the ballot box.
Let us for once take a hard look at ourselves. O'tega Emerhor, a man whose leadership, it seems few in our party are willing to subscribe to, is now the chief proponent of the idea of a candidate from Delta North against Okowa in 2019.
Yet it is clear that all genuine Urhobo men consider this as merely an elaborate 419 scam to deny Urhobo a return to Government House come 2023 when it should be their turn for surely, if at all any candidate from Delta North succeeds in defeating Okowa in 2019, such person would naturally insist on continuing for a second term till 2027.
O'tega's two arrowheads, Victor Ochei and Cairo Ojuogboh do not see eye to eye on any issue. Ochei never has anything good to say about Cairo while Cairo can never be heard to say anything positive about Ochei and when you see them smiling together with O'tega you begin to wonder what kind of people are these who are ready to tear each other apart while pretending to be a united opposition that can give Okowa the fight of his political life.
Meanwhile, O'tega is at the same time fighting Great Ogboru and Senator Ovie Omo-Agege in anticipation of  the spoils of an office none of them seems serious about assuming. Whatever might be the political credibility of Ogboru and Omo-Agege in Delta Central, that is where their political appeal ends.
Their no Urhobo no Governor mentality have rendered them politically impotent in Delta North and Delta South where the electorate fiercely resents any notion that they are to be considered inferior in the state on account of their individual minority status.
While Ogboru keeps giving his supporters the impression that he has already won the election when he is not even sure of getting the party's ticket, Omo-Agege, is sprinting as a Mace Runner in faraway Abuja, while our party members back home are running helter skelter in the intractable maze of APC congresses stabbing each other to death at the slightest provocation.
As regards any other loudmouths touting their ability to defeat Okowa, they are just jokers we would be quite foolish to be banking on.
So unfortunately for us, while a candidate from Delta North to challenge Okowa is a mere pipedream, Ogboru or indeed any other candidate from Delta Central challenging Okowa is equally dead on arrival since while Delta North will not agree to be restricted to only four years, Delta South will not see the sense in supporting such candidate because it will only be reinforcing the no Urhobo no Governor idea.
It is true that a handful of people keep decamping to our party from PDP but this does not excite me as much as it used to. For one, more members of our party are returning to the same PDP and we cannot even vouch for most of those still with us in APC as many of them are said to be secretly going to Okowa at night to negotiate while pretending to still be with us.
In fact it appears we are being taken for a ride and the whole thing seems like an expensive joke. Shameful as it is for a man to admit, I honestly don't know what to do with these kinds of leaders we have with no leadership to offer. Sadly, I am not alone in this state of dilemma amongst APC supporters in Delta State.
Whatever prayers the remarkably humble Edith Okowa might have been saying for her husband whom I had hoped would be a one term Governor; she would do well to continue. God seems to be on her man's side and unfortunately for us in the opposition; it is more than likely that Okowa will remain our Governor till 2023. On my part, I am seriously tempted to simply throw in the towel and just leave it at that.
After all, it is only fair that all parts of the state should have equality of eight years each and as has been pointed out by countless analysts, since Okowa is the best bet for ensuring such equity across the state, I am inclined to just let it be.
Come to think of it, 2023 is not all that far off any longer and before you know it, it will dawn on us and we would have our grand opportunity to send PDP packing and be in a position to treat Deltans to what good governance really entails.
But even come 2023, we must be better prepared to take power from them or even then, PDP will get the better of us all over again. As for now, with all the drama emanating from the national level, others may continue to hope but I see no sense in deceiving myself any longer.
Even our national chairman and his executives are fast losing credibility and even though I remain with APC, if what I see is what we have to offer Deltans in the next election, there is just no way we are defeating Okowa come 2019.
Imene, a commentator on national issues, wrote from Warri.