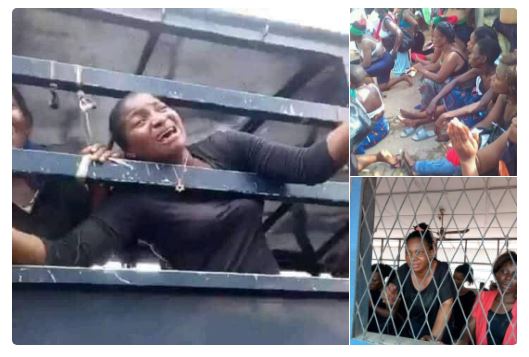 By Vincent Ujumadu
Awka- THE Indigenous People of Biafra (IPOB), Thursday frowned at the decision of a Magistrate Court in Imo State to remand the women arrested during their peaceful protest in Owerri, asking if the courts have become ignorant of the Nigerian laws.
Read also: Release remanded 112 Imo women protesters now- SERAP, Nigerians demand
IPOB media and publicity secretary, Comrade Emma Powerful, in a statement said: "We are aware that IPOB related cases always showcase the very worst in Nigerian judicial practice.
"The level of ignorance and disregard for simple rules of a properly constituted court of law presently on show in Imo State lends further credence to our assertion that a significant proportion of magistrates and judges are ignorant of the laws of Nigeria and rules governing their conduct.
"By allowing the detention of mothers, wives and sisters that pose no discernible threat to the state, the APC government in Imo State, Igbo politicians in Abuja, Ohaneze Ndigbo, Igbo governors and others fronting the Arewa north, have shown that they are weak, compromised and incapable of speaking out against blatant injustice against their own people.
"It confirms what we have always known, which is that they were all appointed or rigged into office to defend the interest of their masters against the collective will of the people.
"Anybody in doubt as to the subservience of the Igbo political class, should look no further than the treatment of our mothers in Owerri prisons. Imo State is supposedly run by a man bearing an Igbo name, the magistrate that remanded our mothers is Igbo, the prison is run by Igbo men, but they still refused to give our mothers food or allow those still nursing to breastfeed their babies.
"This total humiliation of the Igbo race is what we are witnessing today because even laws enacted and passed to defend the people can no longer be relied upon to save the innocent
"What Owerri Magistrate Court displayed today (yesterday) and last week by remanding innocent mothers in prison is the height of judicial impunity, executive overreach and abuse of power by collaborators, both in Imo State and Abuja.
"It is also baffling that an overwhelming number of human rights groups in Nigeria cannot speak out against this blatant injustice because those being persecuted are Biafran women."