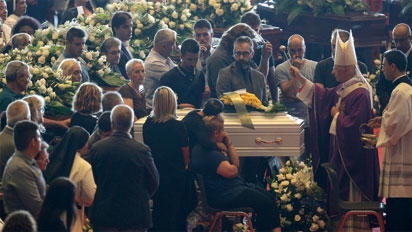 Funeral mass for Italy bridge collapse
Rescue workers have found four more bodies in the rubble of the Genoa bridge collapse, raising the death toll from 38 as at Friday to 42 Saturday morning.
This happened just as mourners filled a fairground pavilion for a state funeral for many of the victims found in recent days.
Italian RAI state radio said what was believed to be the body of the last person missing in Tuesday's collapse of the Morandi Bridge was that of a 30-year-old man.
A few hours earlier, the bodies of an Italian couple and their 9-year-old daughter were found in their smashed car under a big block of concrete, part of tons of material that crashed 45 meters (150 feet) into a dry riverbed and nearby areas when the heavily trafficked major highway span gave way.
Relatives had said the family, from northern Italy, had been traveling to catch a ferry for the island of Elba, while on vacation.
RAI said authorities now believe there are no more missing after an elderly German man called officials to say he wasn't involved in Tuesday's collapse.
Genoa's prefect's office said it didn't immediately have official confirmation of the media reports of the latest discovery of bodies by rescuers.
Mourners applauded firefighters and others involved in search-and-rescue efforts as they arrived for the funeral on a day of national mourning.
By early Saturday, families of 18 victims had confirmed their participation in the funeral and Mass celebrated by Genoa's archbishop, Cardinal Angelo Bagnasco. Government leaders also were attending the state funeral.
Others opted for private funerals, including one a day earlier for four friends, young men in their 20s, from the southern town of Torre del Greco.
At that service, relatives angrily denounced authorities for what they contend is failure to keep the bridge safe.
The cause of the collapse is under investigation but prosecutors have said they are focusing either on possible design flaws or inadequate maintenance.
NAN