By Ekanpou Enewaridideke
WOLE Soyinka is a Nigerian known across the globe as a playwright, novelist, poet, critic, actor, director and a human rights activist who relentlessly castigates his generation often with a clear-cut blueprint for its moral regeneration, mostly through satire. Soyinka, reputed for his constant healthy criticism of the nauseating structures in his society, engages this age-long task artistically from a very different plane in the play, The Beatification Of Area Boy.
The Beatification Of Area Boy first published in Great Britain (1995) and later in Nigeria (1999), is an exploration of the suffocating absurdity in the Nigerian society under military regime and by extension, any African country where these retrogressive structures exist unquestioned. This work perfectly exemplifies THEATRE OF THE ABSURD which according to A Dictionary of Literature by Emeaba Onuma Emeaba, is a "genre of twentieth century drama characterised by bizarre themes, characters and conventions that illustrate the notion that reality is a meaningless accumulation of unrelated events made preposterous by man's futile attempt to interpret it or give it order. An AVANT-GARDE kind of DRAMA that represents the absurdity of the human condition by abandoning rational devices and realistic form."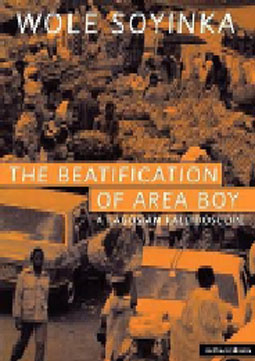 Set in Lagos in an opulent shopping plaza, the play centres on the activities of Sanda who has a lot of area boys at his command.  A fabled wedding ceremony is about to take place in the plaza between the families of Chief Hon. Surveyor Kingboli and Professor Sematu on account of which Juju band and The Benders band have been equally invited alongside Sanda, the ever cunning and calculating security officer of the plaza. An order to clear the plaza in preparation for the wedding and close Broad Street from seven O'clock all the way from the junction of Balogun Street to the flyover, has been given by the military governor. However, with the military governor of Lagos State and other dignitaries present at the wedding, Miseyi, the bride, as traditionally required, carries a gourd of palm wine in search of her bridegroom among the mammoth crowd. After a series of fainted searches, Miseyi plonks down the gourd before Sanda and defiantly faces the High table.
The family of Chief Hon. Surveyor Kingboli and many other dignitaries feel affronted. A verbal pandemonium between the two families ensue.  To Chief Hon. Kingboli, the slight emanates from an oil contract he has won against Professor Sematu which both have bidded for before now. The military governor, equally slighted, orders ADC to send for reinforcement of soldiers and they leave the plaza immediately, full of anger. Conscious of the reinforcement of the expected on the plaza, Sanda cunningly handles the situation with accustomed ease. He orders his area boys to make a clean sweep of the crisp notes of naira sprayed over the plaza in ostentation and exhibitionism.
While this is in progress, he orders Barber (area boy) to lodge a complaint at the Police station that some soldiers have grabbed the crisp notes of money sprayed and have gone to Good Time Bar to enjoy the loot. Sanda also briefs Boyko to stay in the plaza with some pile of the money so that when the soldiers come, he will trick them that area boys have made off with the whole lot.  As planned, when the soldiers come back, they shoot Judge and take the money from Boyko and he tells them that the area boys have gone to Good Time Bar, Ikorodu to enjoy the loot.   The soldiers rush out in the same manner they come.   But surprisingly, Judge survives the bullet, soon after and vows never to forgive the soldiers for their "bestial conflagration."
One can even see the picture of avant-gardism from the plot and consequently make a good analysis. To me, such approach sounds rather simplistic.  A very clear picture of avant-gardism emerges prominently through an individual survey of the various characters and their activities. It is only such approach that can give a kaleidoscope of the work. Is the play itself not described as a Lagosian kaleidoscope by the publisher?  This approach can bring into focus the network of relationships among the characters as it affects the development of the plot because, in this play, each of the characters chosen by Soyinka has their relevance.
The Beatification Of Area Boy has very many characters.   Amidst the multiplicity of characters, it is certain characters that have been purposely chosen by Soyinka to project his vision; it is the activities of these characters that reveal the presence of the others.   It is these characters that are, comparatively, more developed though Sanda is still the focal point and the catalyst.   These characters are Judge, Barber, Trader, Mama put, Boyko, Cyclist, Minstrel and Miseyi.   Each of these characters has a defining feature in the play and they are cunningly, though willingly, used by Sanda to achieve criminal purposes.
The character Judge is plagued by an obsession to salvage the lost souls. The people imprisoned by the military government and the Maroko settlement evacuees fall into the categorisation of Judge's lost souls.   With his constitutionally permissible prerogative of mercy, Judge feels he can bring succour to the lost souls.   Barber is defined by his belief in ritual killing as a way of making money.   To Barber, some people in this country are busy making millions from human beings killed for ritual purpose though Sanda is always critical of this mindset.   Trader and Barber are identical in their perception of ritual killing.   Trader specifically maintains that hunchback scooped out can breed millions to some people.
Mama put is preoccupied with how to sell and train her daughter satisfactorily though she can hardly buy textbooks for her coupled with a hatred for soldiers for killing her brother.   Boyko is a character distinguished by his capacity to pander to the criminal interest of Sanda.   He constitutes the quickest instrument through which Sanda achieves his cunning.   Cyclist is obsessed with how to attend an interview which brings him to buy tie from Trader in the plaza on bicycle.
In Lagos where opulence dominates and where bicycle has long been seen, cyclist's bicycle is a surprise to Sanda, Barber, Trader, mama put and others around.   Newsvendor wishes journalists were around to carry the news of a man on bike in Lagos.   Minstrel, as a character is poised to visit any place where party holds because it would give him an opportunity to display his repertoire of songs as a troubadour.       This explains why he goes into a frenzy of rehearsal when Sanda informs him of Miseyi's wedding ceremony at the plaza.   Miseyi is Sanda's friend at the university when he is a student.   They are probably course mates though not categorically stated in the play.   She is at first baffled to see Sanda in security outfit but when he explains, she simmers down.   She registers her significance in the play when she chooses Sanda as a bridegroom in preference for chief Hon. Kingboli's son and the activities that follow the puzzling choice.   Earlier on, before the wedding ceremony, she tells Sanda that she is disgusted with financial exhibitionism.   Perhaps, her dramatic choice at the wedding ceremony is a hallmark of her principled stance.
Sanda is the centre of attention in the play.   The events revolve around him.   As the security officer in the plaza, dressed in its regalia, head pretendedly buried over a newspaper, he cunningly engineers his cronies to unleash atrocities on unsuspecting victims.   The first conspiracy involves Bigman shopper and Boyko.   Big man shopper goes to the plaza for shopping.   When he comes back, he finds his briefcase removed and he holds Boyko as the suspect though in actuality it is TWO-FOUR that steals the briefcase.   In the ensuing rift between the two, Sanda intervenes and pretends to deal with Boyko without the involvement of the police.   Convinced, Big man Shopper gives Sanda some money to facilitate the process of the jungle justice.   The briefcase contains some money and many documents.   It is the documents that interest the owner.
Some moments after Big man Shopper's incident, Sanda is seen again at another scene – police is seen dragging a man Accused of genital removal.   Victim claims that Accused removes his genitals by touching him.   But Accused denies any knowledge of such magical act.   This incident confirms the belief of Trader and Barber in ritualism.   Witness, Woman and Another Witness conclude that genital removal is a delicate attempt by the military to control population long preached and rule in perpetuity having innoculated the police and the soldiers against this conspiracy.   To Sanda, genital removal does not exist.   To confirm this, he orders one girl and Victim to be locked in a room to see whether the right stimulus will not produce corresponding results.   With this experimental solution proffered, Sanda disperses the crowd with his authority.
Sanda is always full of plans to extort money from the unsuspecting public.   He is a professional master planner.   Being the invisible hand behind every problem in the plaza, he is soon seen settling dispute between Attendant and Foreigner.   Attendant claims that Foreigner has not paid the parking fee.   But Foreigner claims he has paid seven naira before. Sanda intervenes and explains that it is the comprehensive insurance fee everybody has to pay for security and safety of the car as it is in foreign countires and that he has paid to the wrong people which ordinarily, ought to have been ten naira. On this cunning explanation, Foreigner offers to pay again.   But Sanda insists that he should not pay again.
Later when Foreigner comes back from shopping, he gives Sanda twenty naira and complementary card in appreciation of his adjudication.   Cunning as Sanda is, he is aware that political appointment in the military and elevation, without going to the battlefield, cocaine pushing, swindling, perpetuation of armed robbery and proliferation of church and mosque are the breeding ground for millionaires.
Soyinka has characteristically drawn attention to military dictatorship in Nigeria. Imprisonment of people highlighted by the activities of warder and which indeed is an indictment of Nigerian prison authorities in their susceptibility to bribery from inmates. Prisoners in the play, forcible evacuation of Maroko settlement without legal procedure and the sadistic "booting" of Judge for tying to save the lost souls are indicators of military dictatorship portrayed in the play.
Extortion of money from people, stealing and embarrassment of foreigners also feature in the play. To Soyinka, nefarious activities of this kind are an embarrassment to the national psyche which will stunt national growth and development via the discouragement of foreign investment.   Foreigner captures his consciousness of this conspiracy when he says:
"You know what this bloody well does, don't you.
It gives a very bad impression of
You people to foreigners.
You are driving people away
From your country.
Airport, the same grab.
Customs ditto-Dash, Kola,
Bread, wetin-yoy-carry, donation
– – – very poetic-
I thought I had mastered all
the extortion racket going
on – two dozen at least – now you tell me there is
another one called insurance".
Apart from Soyinka's portrayal of the loss of constitutional focus of the military by abandoning territorial protection responsibility to rulership, he also showcases the complicity of intellectuals in the infamous military dictatorship. Portrays chief Hon. Kingboli (BSC. Cantab., order of merit, honorary doctorates and chieftainly titles too numerous to mention) and professor Sematu (BA, MA, DSC, former minister of oil and Petroleum Resources and Ambassador Extraordinary) as stinking intellectuals who thrive on military dictatorship.
Soyinka appears to be particularly nauseated by ostentation and exhibitionism often associated with the affluent.   At the climax of the play, he uses artistic contrivance to humiliate the family of chief Hon. Surveyor Kingboli, the military governor and the other dignitaries at the wedding ceremony when Miseyi the bride dramatically changes her choice of Life-partner to Sanda.   Fortunately thrown into good family by unanticipated marriage, one would expect a total attitudinal change of life from Sanda.   But once again we are baffled by his resolve to form a band with the loot from the wedding and play "diversified" music made up of songs that entertain ordinary people for pleasure and attack government excesses in alternating order.
In a world characterised by destruction of acceptable moral order, frustration, hopelessness, fragmentation, hostility, absurdity and disenchantment will be the order of the day.   And the most appropriate way to paint this absurdity and throw it on the face of the world is to artistically distance oneself from rational and realistic approach as adopted by Soyinka.   So, in the THE BEATIFICATION OF AREA BOY, Soyinka portrays a decadent Nigeria in the grip of military dictatorship which requires a total moral regeneration as an escape from the suffocating cul-de-sac.
As relevant as Soyinka's dramatisation of The Theatre of the Absurd is in THE BEATIFICATION OF AREA BOY, he has artistically posited that, in an absurd world, no meaningful redeeming character emerges and that meaningfulness cannot produce meaningfulness; meaningfulness can only emerge from meaninglessness and there is no meaningfulness in the meaninglessness exemplified by Sanda in the play.   What a masterpiece by Wole Soyinka!   It is indeed only in an absurd world that objectionable and undesirable character like Sanda, who is a very notorious area boy, is treated as a celebrity as it is in the THE BEATIFICATION OF AREA BOY.