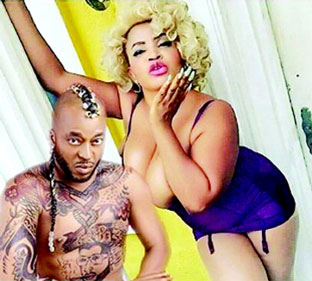 Most celebrity love affairs, they say, crash from the pages of newspapers. But for busty screen diva, Cossy Ojiakor and actor, Benson Okonkwo, theirs have begun from the pages of a newspaper, none other than Vanguard newspaper.
When Sunday Vanguard Potpourri published how the two actors confessed love for each other, instead of ill feeling for letting the cat out of the bag, the two lovebirds actually savoured the day and wallowed in the publicity it brought them. Another publicity stunt? The lovers don't think so. It is the McCoy!
"One actress I can marry in nollywood @cossyojiakor. I have serious love for you. Is she not blessed yet endowed and at the same time friendly and humble. Sexy siren I have always loved her, never judge from afar, I repeat don't judge what you don't know. Keep being original, may God bless and reward your hustle.
My dear you've got a good heart that I know something in me tells me so. Who can be like you, no one. I don't have hate in my dictionary. Look fans, she's someone you all should pray to know okay. Cossy keep doing your thing, keep soaring higher, love you big time. I rest my case," he posted on his Instagram page displaying a copy of the publication And Cossy wasted no time in replying him, " Ohhhh my boo boo.
My brother from away. Much respect. "Sunday Vanguard Potpourri has published a story in which Benson Okonkwo declared that the only woman he can marry in Nollywood is Cossy Ojiakor and Cossy had replied the actor, " Benson is very cute, we will make lovely babies together,".