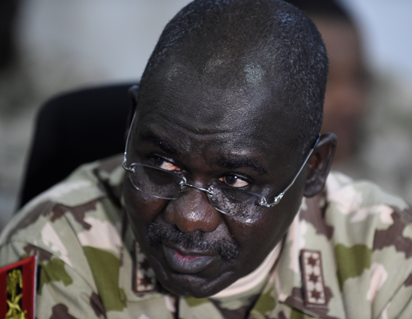 A human rights group, Coalition For Truth And Justice [CTJ] has said some individuals are not happy with the progress being made by the army in the war against Boko Haram insurgents.
Addressing journalists in Abuja, Barrister Charles Timothy, national coordinator of CTJ said it is obvious that these individuals are unhappy with the professionalism of the army under Buratai, and how it has decimated the insurgents.
According to Timothy, these indivduals went silent once Boko Haram was put in its right place by the Nigerian Army, but has suddenly find its voice and perfecting an agenda for its own resurgence because of peculiars occurrences on the political scene that had impacted the security community.
He accused them of hinging on "lame excuse" to call for the sack of the Chief of Army Staff (COAS), Lt. Gen. Tukur Buratai.
He said, "The referenced event is the sack of the former Director General of the Department of State Services, Lawal Daura by Acting President, Professor Yemi Osinbajo following the invasion of the National Assembly by operatives of that service.
"Even as Nigerians are still analysing matters arising from the sack and its import for Nigeria's democracy and security, CUPS Ahmed Idris saw an inordinate opportunity to settle old scores, re-launch his failed hobby as an aspiring activist, and assert himself as an accomplished terrorists, one that was able to bring Boko Haram back from defeat.
"Certainly after clawing at many straws, these individuals came up with the lamest of all reasons as a justification for the Acting President to sack the Chief of Army Staff (COAS) Lt. Gen. Tukur Buratai. That ludicrous justification was that the Army was corrupt.
The CJT boss said tracing where the country came from in just under four years and where the country is today is enough to discredit allegations by the so called organization led by Ahmed Idris that the Army under Buratai is corrupt.
He said, "We are very much familiar with the assertion that corruption was fighting back when the President Muhammadu Buhari government first intensified the anti-corruption war. Nigerians never believed that Terrorism could ever fight back.
"But his is a reality that we now confront in our country some questionable organizations. The terrorists have launched a counter offensive against the Nigerian state and it is understandable that the Nigerian Army is the specific target.