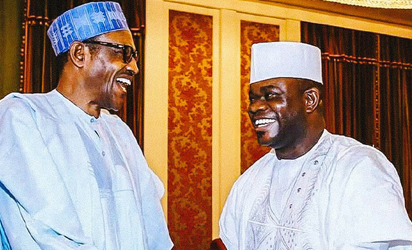 BY BOLUWAJI OBAHOPO
LOKOJA – Governor Yahaya Bello of Kogi State has called on Nigerians to be patient with President Mohammadu Buhari as he battles to fix the country's ailing economy and security challenges.
Bello who was speaking on Tuesday after the Eid- Kabir prayer in his country home, Okene said that the president has demonstrated unequalled ability in tackling the nations economic transformation in the last one year.
"The National Bureau of Statistic record shows that the economy of the country is growing on daily basis, so Mr President is doing a good job.
"We are also doing our best in Kogi state to make sure that we secure the lives and property of the people through continuous provision of security surveillance".
The Governor expressed confidence that President Buhari will win for another four years term because "Nigerians believed in him and it is evident in the conduct of all the bye election in the country recently".
Bello also disclosed that a total of 105,000 women will be empowered under his government empowerment programme designed to lift the state out of poverty.
He also urged the people to take advantage of the president's agricultural programme to better their lives, said the effort will go a long way in addressing the financial predicament of the youth in the state.
According to him "We are going to give cash empowerment to people to boost their businesses and I am also appealing that the people should take the advantage of the agricultural programme of the Federal government to better their lives"
The Ohinoyi of Ebiraland, Dr Ado Ibrahim who was at hand while the governor was addresing the people tasked his people on the need to live with one another in peace to enable the district develop.