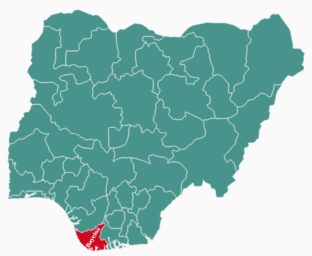 By Samuel Oyadongha
YENAGOA— RESIDENTS of Polaku community in Yenagoa Local Government Area of Bayelsa State have lamented what they described as the adverse environmental impact of the gas flare from the nearby gas gathering plant on the people.
The plant, the Gbarain-Ubie Integrated Oil and Gas gathering facility is owned by Shell Petroleum Development Company, SPDC,  and located in Gbarain.
The natives lamented that the hazards of the gas flare were causing men, women, youths and children "strange health issues," which have been rising lately.
According to them, the vibrations caused by the gas flare, especially at night when the facility operates in full blast, were also damaging their buildings.
Chief Puragha Pokoitei, a retired  headmaster and community leader said that earlier assurances that the facility operates within tolerable limits had turned out to be untrue.
He said: "Shell started this gas flaring here in 2010, about eight years ago, it hasn't been easy tolerating the adverse effects.  This gas flaring has affected so much that we cannot bear it any more. We cannot sleep at night in our homes because of vibrations caused by the gas flaring."
Also, a former youth leader in the community, Mr Agge Werinipre, added that "Our children are affected health wise and our crops are not doing well anymore.  Even the rain water we cannot drink it anymore. So, we are begging the world, we are begging the Federal Government to come to our aid.
"Our houses are cracking because of the shaking, we cannot sleep at night. All our windows are shaking, our roofs are shaking. Let the world hear this. The Gbarain people are suffering, Shell is suffering the Gbarain people.
"Our leaders are not doing anything,  we are suffering.  So, we are begging those in authority,  we are dying here," Werinipre said.
Another resident, Mr Jephthah Idubamo, however, said that the community would not like to take the option of violence  because the people are peace-loving people.
"Shell should stop flaring gas here. Stop it. If they cannot stop it, let them relocate from the community. We cannot continue to stomach all these impacts as we are dying in silence. We say no. Enough is Enough," he said.
Acting Paramount Ruler of Polaku community, Chief Club Tari, demanded compensation or relocation of the company from the community.
"We are not happy with the gas flaring. So, what we want is that we should be compensated. Whether it is annually,  let them pay us hazard allowance, if not, let them stop the gas flaring because we are not comfortable with it," Tari said.
Contacted on the development, Mr Bamidele Odugbesan, SPDC's Media Relations Manager, said the facility operates within safe limits.
"SPDC JV facilities in Gbarain has fully functional solutions to address routine flaring.  SPDC JV has also continued to make progress in close collaboration with its joint venture partners and the Federal Government towards the objective of ending the continuous flaring of associated gas.
"In fact, since 2000, all new SPDC JV facilities have been designed to eliminate continuous flaring of associated gas. In parallel, a multi-year programme had been successfully implemented to install equipment for capturing associated gas from older facilities.
"As a result, flaring volume from SPDC JV facilities was reduced by 90 per cent between 2002 and 2017 and flaring intensity decreased by 78 per cent over the same period," Odugbesan said.