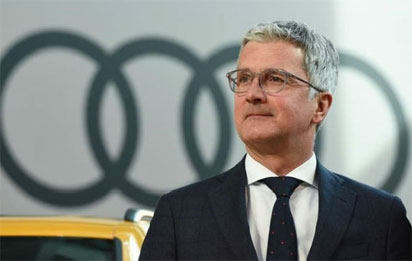 The Chief Executive of German car maker Audi Rupert Stadler, is to remain in pre-trial detention after a Munich Court dismissed an appeal against his arrest warrant, a judicial spokesperson said on Monday.
Stadler remains under suspicion of turning a blind eye to the sale of vehicles with manipulated diesel motors, the spokesperson said.
The grounds for detention namely risk of collusion remained valid, she added.
Stadler was arrested eight weeks ago in the southern German City of Ingolstadt and has since remained in custody.
The supervisory boards of Audi and Volkswagen, of which Audi is a subsidiary, relieved Stadler of his duties as chief executive "until the issue that led to his detention is cleared up.''
Since then, Audi head of sales Bram Schot, has led the company as acting chief executive.
Stadler is accused of continued sales of vehicles in the U.S. and Europe after it became known that they were fitted with software that manipulated emissions information, allowing them to meet higher environmental standards.
He also reportedly tried to influence a witness during an intercepted phone conversation.