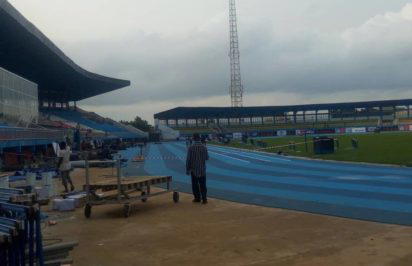 Stephen Keshi Stadium, Asaba,
Asaba – Jemal Mekonnen and Andamlak Berta of Ethiopia on Wednesday won the first medals of the 21st African Senior Athletics Championships (ASAC) holding in Asaba, Delta.

Mekonnen finished the men's 10,0000 race with a time of 29 minutes 08:01 seconds to win the gold medal, while Berta had a time of 29.11:09 to win the silver medal.
The News Agency of Nigeria (NAN) reports that Timothy Toroitich of Uganda won the third position in the race with a time of 29.11:87 for the bronze medal.
However, Josphate Bett of Kenya, who finished seventh in the race, blamed his performance on his late arrival in Asaba for the championship.
"Even though the competition has been good so far, but I would have done better if we had arrived early and had a good rest and training before the race,'' he said.
Bett regretted that Kenya, being the gteam with the race's defending champion, could not produce at least one of the three final winners due to the challenges faced by the team.
"We arrived in Asaba about three hours to the competition. So, this affected me. I feel I would have done better," he said.
Also, Nigeria's Seyi Ogunleye who won one of the men's 100m heats on Wednesday, said he was confident that he would win in the finals.(NAN)