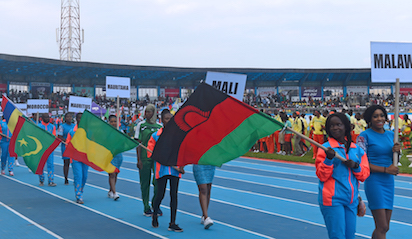 By Ben Efe
After five days of events Kenya, topped the medals table of the 21st African Athletics Championships, but it was a close call as South Africa and Nigeria put up a good fight till the last minute.
Kenya who came with a strong team and loads of complaints won a total of 11 gold, six silver and two bronze medals. South Africa won nine gold 13 silver and eight bronze medals. Nigeria settled for third place with nine gold, five silver and five bronze medals.
Nigeria's Onome Nathaniel Glory won the women 400m hurdles with a time of 55.53 seconds,  Grace Abata won the women triple jump gold, the women 4x400m completed the day for Nigeria after putting on a good display to win the gold much to the delight of the cheering crowd.
In the 200m women Ivorian Marie Josee Ta Lou completed her sprint double returning 22.50 seconds. Nigeria Praise Idamadudu  was 8th with 23.79seconds.
"Our team did quite well despite all the odds we faced. We didn't have the best of preparations and we had to make do with the little resources we had," said AFN president Ibrahim Gusau.