Jos – Most Rev. Ignatius Kaigama, the Prelate and Catholic Archbishop of Jos, has decried the spate of the Internally Displaced Persons (IDPs) in different parts of the country.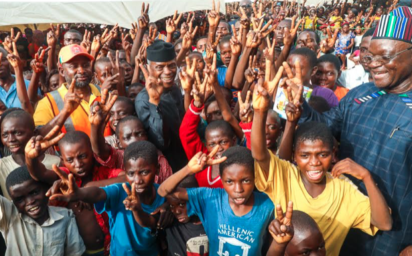 Kaigama said this in an interview in Jos on Saturday.
The prelate expressed concern that the numbers of displaced persons scattered in different parts of country could pose grave dangers to the nation's internal security.
''I went to Taraba, Benue, Southern Kaduna states, and even back home in Plateau, I have seen many IDPs camps with huge population scattered everywhere.
''And I said to myself, this people are becoming a tribe in this country; the tribe of the IDPs.
''This got me worried; I am worried because the presence of IDPs is a recipe for more clashes, violence and disorder in the society,'' he said.
Kaigama called on all tiers of government to intensify efforts at ensuring that the displaced persons were made to return to their original places of abode as quickly as possible.
He further urged the government to beef up security in the rural areas, particularly communities that are prone to attacks, so as to restore lasting peace to those areas.
''We have had crises in many parts of the world whereby the people lost everything they possessed.
''But the governments of those countries made conscious efforts in constantly engaging the people.
''They devoted enormous economic resources in rebuilding a better environment for such people.
''Unfortunately, our case is always different. After few weeks or months, we tend to forget that there are some people who fled their homes and are taking refuge in a strange land.
''So, I urge our government to consciously develop the political will to urgently and drastically address the plight of the displaced persons, especially by ensuring they go back to their homes,'' Kaigama said.
The Archbishop called on Nigerians to be tolerant and learn to live in peace with one another irrespective of their tribe, religious and political affiliations. (NAN)