• 'Ill health, weak team, poor relationship with NASS slowing Buhari down'
• On defections: More APC leaders bidding their time, to decamp soon to PDP
• Speaks on his national conference agenda to stop corruption if elected President
• 'They said I was frail as gov but we handled Kaduna well, didn't intimidate, insult people'
The former Chairman of the Caretaker Committee of the Peoples' Democratic Party (PDP) and one of the presidential aspirants of the party, Senator Ahmed Makarfi, embarked on a nationwide tour to consult with party faithful on his desire to contest the 2019 presidential election. Upon his return to Kaduna where he served as a two-term governor between 1999 and 2007, he sat down with Ben Agande for an interview where he spoke on some national issues as well as his ambition to win the ticket of his party.
You travelled to some states consulting with your party members over your presidential ambition. What will you do if you are not picked as the party's candidate for the 2019 election?
It is not the first time that I have pursued this ambition. Whatever will be the outcome, I will accept it in good faith; whether I emerge as the candidate or not, whatever is the outcome, I will accept it in good faith. Anyhow, I can contribute to the success of the party; whatever I can, I will do; and the question is, will I leave the party and go to another party? I have said it repeatedly that if I leave PDP, I will politically go into semi-retirement. By semi-retirement, I mean you won't find me contesting for elective office. I may still be a political player, playing whatever role I can. But at my age, if I don't get nominated now, you can imagine what my age will be at the election coming after the next one. I don't belong to those who think you should continue to seek electoral office irrespective of your age. What is the essence of the Not-Too-Young-To-Run Law? It defeats that purpose. And the President just signed it into law. We should take every step to actualise laws that are good for our country. So definitely you may find me, not in active politics I am playing now, but, definitely, not leaving the party that I am; but if I say I am leaving politics, I am leaving it for good. I won't move to another party, for what? To vie for election or look   for appointment? It is not something I will think of.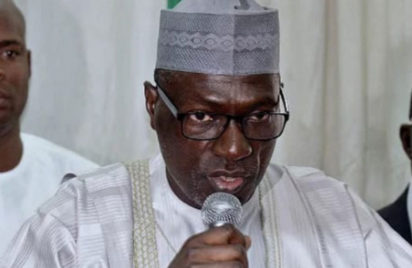 Recently, there has been a gale of defections from the All Progressives Congress (APC) to your party, the Peoples' Democratic Party (PDP). What is your reaction to this development? 
I predicted these defections many months ago. When we were going through difficulties and people were losing hope, and I was asked a similar question as last year, my reply was that the time for defection from APC and other parties to the PDP was and it happened. I predicted it correctly and I am not surprised. Personally, I feel happy that it has taken place. It is also not the end of it. We have seen the first batch; we expect more defections to follow, especially because of the reaction of the APC and its government. Some (defectors) will bid their time and do it at a later day. You know, it happened to us in the PDP. It happened to one and it will happen to the other. It is a matter of time. Personally, I am happy that we are getting returnees back and getting new party members, especially new people that have never been in the PDP before and the party should be prepared for a lot more to come in. Of course, every positive thing comes with challenges. The challenge will be integrating all the party men and women (the returnees and those they met in the party). But I am equally happy that the National Working Committee (NWC) of the party has set the machinery in motion to work day and night to bring a smooth integration and harmonization of interests of party men and women in states that are heavily affected by the defection. That is how politics is played – constructive engagement is still going on and I believe that, at the end of the day, people will accommodate each other in the overall interest of the party. It is a challenge but challenges are there to be overcome. I am confident that the national leadership of the party is equal to the task to see to the integration.
Talking about defections, harmonization and integration of returnees is ongoing. How has it been, especially as one of them is contemplating joining the presidential race? 
Well, you see, it depends on the way you look at this particular issue. What I have been made to understand, which is the true position of the party, because I did discuss with the committee on the harmonization and I did discuss with the party leadership; that, where you have a sitting governor coming into the party with all his apparatus of government, certain parameters of integration should be agreed upon, it's not something to do with the nation. You get my point?
And where he is a senator, certain parameters to do with his senatorial zone should be agreed upon, or state assembly or even House of Representatives. But, I think some are misinterpreting this to be wider than what the intended purpose is. Because, for example, if you are in the House of Representatives, aspiring to go to the Senate, it does not apply to you because it relates to your current position; it does not relate to the position you are looking for beyond your current position. And this is worth discussing, dialoguing and ironing out issues with all involved.
Even here in Kaduna, I have called for a meeting of key leaders of the party that are around, so that we can see how politically we can bring about a hitch-free integration of returnees into the party without causing any unnecessary disruption that can be counter-productive.
There are many presidential aspirants in the PDP and recently the Chairman of the party's Board of Trustees (BoT), Senator Walid Jibrin, was talking about bringing all the aspirants to a round table to discuss the possibility of a consensus candidate. How do you react to that?
You don't rule out anything in politics. First of all, I have not read that statement of the BoT Chairman, so I have not discussed it with him. Assuming he made the statement, politics requires discussion and dialoguing. Such dialoguing and discussion may produce what the BoT Chairman is alleged to have said. It may also reduce the people in the field. I had also propagated the need for us to come together to talk to one another and see how we can bring unity among all of us because we are stronger when we are united and divided when disunited. How we get there I can't say, you have many ways you can get there. I am not asking or forcing anyone to pull out of the race, but I am of course for dialoguing amongst ourselves and other leaders and to see, irrespective of who emerges as the candidate, all others would rally round the eventual candidate to work as one. If all of us have to go for the primary, let's go with the understanding that we will all work together for the eventual winner. So it is good to talk, I am prepared for any discussion that will bring unity amongst us. I can't say what I will do or not do at this particular stage, but I have not been summoned for any particular meeting.   Maybe it is just an idea that the BoT Chairman is saying it loud for others to hear, but politics is full of a lot of things and, in the next few days, we will see what will happen.
One of your former colleagues, Rabiu Musa Kwankwaso, recently advocated that the PDP should pick its presidential candidate from Katsina, Kano or Kaduna state. How do you react to this suggestion?   
That's his personal view. One can only try to understand what his reason could have been. I have not discussed with him, but his reason may be because of the high voters' registration and large turnout usually seen in these states. But that is not the position of the party. The position of the party is that the presidency is zoned to the 19 northern states and FCT. So it is open to aspirants from the 19 northern states and FCT.   So whoever the party men and women find suitable from the zone as its presidential candidate, we will support him. It happened before when we saw a presidential candidate come from a small state and he was widely accepted and supported.   So Kwankwaso is expressing his personal opinion. It should not be construed to say that it is a right and the exclusive preserve of certain states. I don't think he could have meant that but for me the position of the party is very clear.
How do you react to the assertion that the election of the presidential candidate will either solidify or destroy the PDP ahead of the 2019 presidency?
When I was answering a similar question in relation to what the BoT Chairman said, I did say that it is good to talk and dialogue before the D-day to ensure that there is unity among all party men and women.   We have done that before. We should continue to talk and dialogue among ourselves. This way, we can reduce the trouble. The fact that we are talking and engaging in constant dialogue will make it free, fair ant transparent. If you look at the primaries conducted in Ekiti, Osun, nobody will say they were not free, fair and transparent.   In Osun, look at the margin between the winner and the first runner up. It is only in a free and fair contest that you get such margin.   So, the party is living up to its worth by ensuring that there is a level-playing field for a credible primary.   So, I don't foresee any problem. At the end of the day, we will have a single candidate through a democratic way and that candidate will generally be acceptable to all of us.
One of the allegations against this government is the selective fight against corruption. How will you fight the war against corruption if you are elected President? 
First of all, the issue of corruption did not start in 1999. That is not an excuse for corrupt practices that had taken place since the return to democracy in 1999. When you have something, no matter your good intentions, we need to talk to one another on how to deal with this issue once and for all. The only way to deal with it is a conference in a holistic and comprehensive way on dealing with corruption in the country and putting a stop to it. It is not so much about blaming Mr A or Mr B. It is about a complete change of orientation of Nigerians. We will be better off as a nation. But if you don't discuss it and evolve a nationally acceptable, across board way of dealing with it, and it is embraced as a national philosophy and agenda, you may be stopping one person and another person going away with it because he has one cover or the other. This will continue to draw us back until we come together as a country. Fighting the corruption of the past is important but stopping the ongoing corruption is a lot more important. The only way to do it is a national conference on corruption. How I will approach it is a national conference on how to deal with all facets of corruption.
Many people say that you appear to be too soft to handle Nigeria. How do you respond to this?
On the issue of being soft, I was frail as a governor but we handled Kaduna very well, not by intimidating or insulting anybody but by ruling based on justice, fairness and equity. That is what can make any man strong. If you are guided by these principles, you will be a strong man and people will give you all the necessary support you need to succeed. No matter how strong you are, if you are unjust or unfair, you will become weak. I have been tested and my seemingly frail body did not give way. I assure you, if you follow me on campaign, you will collapse. I can do with one or two hours' sleep a day and, with that kind of capacity, I am good to go. But no matter how strong you are, if you don't have a good team, you cannot succeed. You need a good team. And you have to delegate responsibility but you have to supervise to ensure that the power you delegated is used for the good of all.
Will you say that this government has demonstrated equity, fairness and justice in its dealing?
To be honest, even the President said it at a time that if he was younger, he would have done better. Secondly, it is not his doing that he fell sick. We all fall sick at one time or the other. But it is also a factor that may have contributed to the slowness in governance. Then there is no team currently that presently works. We see agencies fighting one another. A leader needs to set up a team that works as a unit. Not handling the legislature very well is also a factor. He did not have a legislative experience and these have all affected government performance. We never had that under PDP government. And we will never have it under a PDP government. Even under for President Jonathan, as gentle as he is, he was calling meeting. These factors have affected the performance of government.