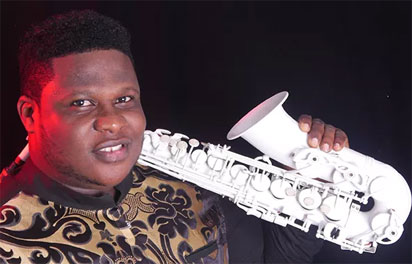 By Osa Mbonu Amadi
After years of musical sojourn in the United States of America, where he played alongside heavyweight in Jazz music from the entire world, OluJazz has returned to Nigeria to champion a jazz revolution.
On Sunday, August 26, the multitalented artiste will be holding his major music concert in Nigeria, which will double as the launch of his two albums. The event, which will take place at the Shell Hall, MUSON Centre, will feature star acts like Wole Oni, Tim Godfrey, Ranti, Lawrence and the Covenant, Onos Ariki, and IBK.
The artiste started playing trumpet from the 1990s. Besides trumpets, he plays drums, clarinet, flutes  and other instruments. He recalls: "I started  playing the saxophone in 2003. I had already understood from childhood that I was going to be a saxophonist. But there was no saxophone around then.   Those in music shops were very expensive, and I could not afford it.
"I was able to meet people who assisted me. I went to Peter King School of Music in Badagry, Lagos, where I learnt how to play the saxophone. From there, I took it upon myself to practice three hours every day for about six years.
"Eventually, I had to travel to Los Angeles, California, in the United States of America, where I studied more about saxophone. I spent two years in the US. I just came back for the massive concert I'm promoting in Lagos."
Almost all the elite musicians in Nigeria have endorsed this important concert. He admitted: "I'm like a son to most of the big names in the music industry. They know me– big names like King Sunny Ade, Ebenezer Obey, Tiwa Savage, Timi Dakolo, Tim Godfrey, Sammie Okposo and  Professor (Sir) Victor Efosa Uwaifo, who is like my godfather, because when I recorded Joromi, he actually took me like his own biological son."
Also known as OluJazz D' Talkative, the name got stuck like a limpet courtesy of the ace comedian, Kofi, who noticed the way he was playing the saxophone on stage, and said he talked too much on the Sax. "He likened it to the way a saxophonist would speak in tongues. He said that I couldn't be calling myself Olu Sax anymore and, because of the way I performed, which, he observed, was deep, he tagged me OluJazz 'D Saxtalkative," said the artiste.
Two albums from the artiste will be revealed during the show, but from the preview of the two albums, one promises to be out of the box. He wants to use the works to make a very big statement that Jazz is actually acceptable by everyone from every nook and cranny of the world.
He declared: "It promises to be a sell-out, as everyone that matters in the society would grace the show: Government officials, politicians and corporate big wigs. This kind of show doesn't come up regularly but we are hoping to make it an annual event. This is the debut edition.
"The show is Olu Jazz's, but every other artiste from the urban category would feature with OluJazz. I'll also be  collaborating with other musicians. It is a three-hour event beginning from 6:00pm. Red carpet and cocktail will kick off at 5:00pm."
The Kogi-born musician is widely travelled. He has played in Santiago Jazz Festival, Chile and California, which happens every year. He played in 2017, but, because of the massive concert he is organising, he couldn't  play this year.
Among the major acts he has performed with include legends like Gerald Albright, Richard Bona, Kenny G, Hugh Masekela, Omawumi, and Tiwa Savage, at various occasions.
"The Jazz and saxophone world of music is growing. We have a couple of saxophonists who are doing well in Nigeria. Thank God, I was able to travel to America to study and dig deep into Nigerian Jazz music and to perfect my craft. Now, I can say by God's grace that I can stand anywhere in the world and perform without goose pimples."
How about your lyrics? He said: "I'm a moralist. I don't play music that is out of the norms. I play music that is well curtailed. I'm a gospel musician and minister of God. Without God, I cannot get to where I am. I started from the church, hence I didn't go away from the church, and I will remain in the church. But that does not mean I cannot play outside the church."