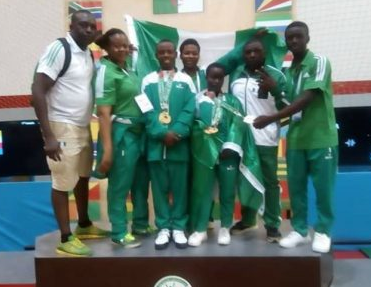 Team Nigeria weightlifter receiving medals
Ibadan – Sunmisola Balogun, a gold medalist in wrestling at the just-concluded Africa Youth Games (AYG) in Algiers, on Wednesday attributed her victory to hard work and focus.

Balogun said in Ibadan that she went to the tournament determined to win a medal.
"It wasn't an easy competition being the current champion in my weight category and I had to defend it or lose it to another opponent.
"I was focused on retaining it and I'm glad I eventually did. I really thank God Almighty for his grace over me; it's not an easy task been a back to back champion.
"This was only possible due to hard work and God's grace, " she said.
The 16-year-old cadet wrestler said she was always happy whenever she mounted the podium to raise Nigeria's flag in competitions.
"Holding the flag gives me more courage and encourages me to put in more efforts into my training and getting better.
"It is only when I keep getting better that I can have the opportunity to be representing the country and wining more medals," Balogun said.
The Ondo-State based wrestler, however, thanked the Nigeria Wrestling Federation for supporting and encouraging cadet wrestlers.
"I am really proud of my sport and I am glad that the efforts of the female national coach, Purity Akuh, is paying off on me.
"In Algiers, our coach kept encouraging us by saying we have come here not to play but put in our best by more than 100 percent.
"Anytime I am out for a tournament, I have learnt not to give up even when I am tired. I also observed that my fighting spirit gets higher when I am getting tired," she said.
NAN reports that Nigeria came fifth with a total of 103 medals comprising 29 Gold, 32 Silver and 42 Bronze medals at the third edition of the AYG.
Wrestling got 19 out of the medals with three gold, seven silver and nine bronze. (NAN)