…As US Agency, ABUAD partner to tackle the menace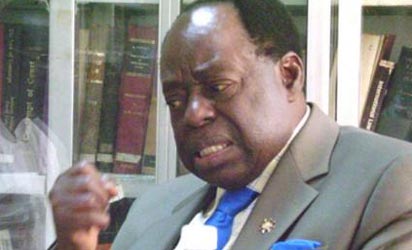 By Rotimi Ojomoyela
Ado-Ekiti- Afe Babalola, the Founder of Afe Babalola University, Ado-Ekiti (ABUAD), has lamented the menace of child and maternal mortality in the country, saying the unfortunate situation has rendered many children motherless owing to pervasive ignorance among the African people.
Babalola said this at a dinner organized by ABUAD for experts from United States of America Agency, Project CURE; Dr Carlos Ramos and Dr Lee Jones, Friday's night.
The US Agency, Project CURE entered into partnership with Afe Babalola University, Ado Ekiti (ABUAD) for the training of experts in new techniques to banish the rampancy of child mortality in the country.
As a result of this, the agency has trained medical workers of the university, particularly those working at the 400-bed multi-system Afe Babalola University Teaching Hospital (ABUTH) on the new medical initiative named: 'Helping a Baby Breathe' that will make baby survive after delivery.
At the one week-long training, the medical practitioners were trained by experts from Project Cure, a philanthropic agency which was worldly renowned for giving aids to individuals and nations to boost the healthcare needs of the people.
The ABUAD's founder, Chief Afe Babalola (SAN), praised the President/ Chief Executive Officer of the agency, Dr Douglas Jackson for believing in humanity.
Babalola said Project CURE has been of immense benefits to Africa nations. They have given over 300 sophisticated equipment to many hospitals in
African continent and ABUTH was a beneficiary of this benevolence meant to tackle poor healthcare needs of the citizens. These equipment ran into millions of dollars.
"When I was born some 90 years ago, deaths among children of between a day old and one year were high. Out of ten delivery, hardly could you see two surviving.
"My mother had ten deliveries, only four of us survived . Even as we speak now, we still have more mothers dying during childbirths in Africa.
"We appreciate Project CURE for this partnership, it will help in exposing our experts in modern techniques of making a child survive after birth.
"We decided to partner you, because this university was established to make a difference in Nigeria and we assure you that we are going to extend the knowledge gains to other sections of Ekiti to benefit", he said.
After presenting certificates of participation to the participants, Dr Ramos, said the first minute of a child after its birth called golden minute was very crucial for the survival of a new-born baby, urging the experts to take the techniques to help the baby breathe serious to reduce child mortality in Nigeria.
Ramos added: "Project CURE is committed to improving the wellbeing of the people and that is why this partnership is going to be a long-term one.
"This helping baby survive initiative is a crucial aspect of medicine and it goes along with making mother survive during labour, the two are like Siamese twins.
"We appreciate ABUAD for going beyond the shores of Nigeria to seek help on how to improve the health sector, because it remains the most crucial aspect of medicine.
"We want the experts to spread the gospel by teaching others the new technique in making a baby survive by making them jettison the old style of slapping or turning new babies upside down for them to take the first breathe", he advised.
The Provost, College of Health Sciences, Prof. Rotimi Sanya, pointed out that the initiative becomes very important on the premise that not all the babies could breathe after delivery except they are aided medically.