…The Church Eterna
By Dr. Francis Akin-John
God has His people everywhere. Living the Word of God is what draws people to Christ, but instead, we are using clever gimmicks. We are to be witnesses for Him wherever we are, whatever we are doing.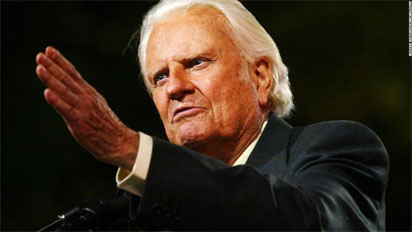 The church must be pre-pared to endure persecut-ion. We are told to be pre-pared—to wear the belt of truth, put on the breast-plate of righteousness, pull on the boots that will carry the Gospel, and take up the shield of faith, the helmet of salvation, and the sword of the Spirit (the Word of God), which rep-resents Christ's entire me-ssage. And we are to keep in mind that this battle is not ours, but God's (2 Chronicles 20:15).
The church is the bride of Christ. That glorious day is coming when we will be caught up in the air with our Bridegroom, Jesus Christ. The bride of Christ is the triumphant and et-ernal church, which will be gathered to His side and reign with Him forever. The angels will sing, instrum-ents will resound; God's people will praise and wor-ship the Redeemer. What a day that will be for the church eternal! To Him be glory in the church by Christ Jesus to all generat-ions, forever and ever. (Ephesians 3:21)
Billy Graham, the world-re-nowned preacher, evang-elist, and auth-or, has deliver-ed the Gospel message to more people face-to-face than anyone in history and has minist-ered on every continent of the world, in more than 185 countries. Millions have read his inspirational cla-ssics, including Angels, Peace with God, The Holy Spirit, Hope for the Troub-led Heart, and How to be Born Again, The Journey, Nearing Home, and The Re-ason for My Hope.