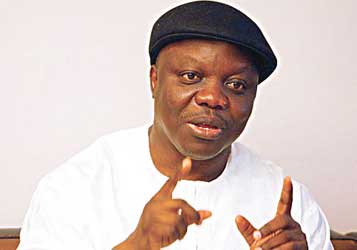 By Festus Ahon
ASABA- IMMEDIATE past Governor of Delta State, Dr. Emmanuel Uduaghan, has told political parties to reduce the fees for expression of interest form for the 2019 general elections so as to encourage youths' participation.
Uduaghan who spoke at the 2018 Political Youth Conference organised by the Core Delta Youth as part of activities to mark the International Youth Day in Warri, said the only way to actualise the "Not-Too-Young-To-Run Bill" recently signed into law by President Muhammadu Buhari, was for Nigerian youths to support their colleagues who are contesting for various political positions in 2019.
Saying 2019 should be a testing ground for the "Not-Too-Young-To-Run" campaign in the country, he said if the youths are eager to "Changing the Old Narrative in a Young and Dynamic Socio-Political World", they should support their colleagues who are vying for political positions rather than pulling themselves down.
Uduaghan, who is a Senatorial aspirant in Delta South, charged young people seeking to be leaders to first learn to manage time before seeking to lead, urging the youths to borrow a leaf from young Presidents like Emmanuel Macron.
He said "When young people stand for election, they don't enjoy the support of fellow youths. They are still the ones that try to bring their fellow youths down. Any youth standing for election must focus on mobilizing the youths instead of running down older candidates as a form of manifesto.
"our political parties should lower their fees for expression of interest form for youths especially ahead of 2019 general elections, because without it the campaign for Not-Too-Young-To-Run which was recently signed by President Muhammadu Buhari will be a mirage. 2019 will be a test ground for young people seeking to lead. Youths must support themselves for elective positions. Nigerian youths must borrow leaf from global young presidents such Emmanuel Macron of France."
Earlier in his address, Coordinator of Core Delta Youth, Mr. Uyero Erarawewho, told the youths to shun violence, thuggery and say no to doing the nefarious bidding of any politician as the political atmosphere in the country hit up in the state.
Erarawewho said; "We can only change the old narratives if we stand up as youths to engage ourselves positively in politics as we make up 65 per cent of the electorate. We have to be relevant and that is what Core Delta Youth stand for, being committed to good governance and 30 per cent inclusion of youths in government."